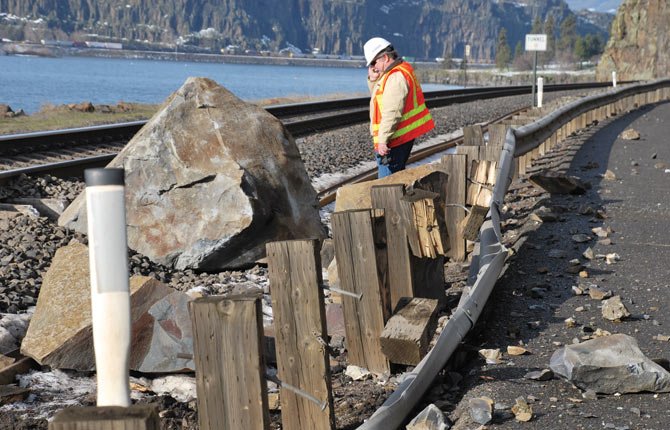 Why Troutdale closure?
Safety, amenities and traffic flow all played a role in decision. READ MORE
You may want to think twice about travel plans through the gorge this weekend — or at least give yourself plenty of extra time and patience to reach appointments.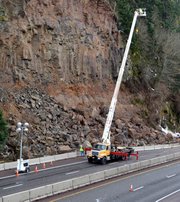 Traffic on Interstate 84 eastbound will continue to be diverted at Exit 17 in Troutdale through the weekend while crews clean up a massive slide at Milepost 61, six miles west of Hood River, reported the Oregon Department of Transportation.
About 2,000 cubic yards of rock and debris fell from the hillside south of the freeway Feb. 12, just before 7:30 p.m., forcing the closure of all eastbound lanes and one westbound lane.
"You can still hear the rocks tumbling down, and it's the most eerie thing," said spokeswoman Kimberly Dinwiddie of the Transportation Department.
Dan Koopman of LaGrande said he was headed home from a meeting in Salem when the rocks started smashing the front of his car.
"I thought, 'I'm going to get crushed,' and I bailed out of my car as fast as I could," he told KGW-TV (http://bit.ly/LYtATl ).
He jumped over a barrier and got away from the slide with just a few sore ribs. His car was totaled.
"I am just so unbelievably grateful," he said. "I just look at the car and the rocks. And some of them were far larger than my car."
Westbound traffic is able to pass through the area, but can expect long delays and slow traffic. The Oregon Department of Transportation hopes to have one eastbound lane open by Monday, Feb. 17.
Alternate routes include Interstate 205 north to Washington State Route 14 through the gorge to the Hood River toll bridge, and U.S. 26 to Oregon 35 around Mt. Hood.
Thursday traffic on 14 was further snarled, temporarily cutting off the east end of the gorge as a result of a fatal head-on collision near the Bridge of the Gods. Traffic was diverted around the crash until the roadway reopened at 6:30 p.m., reported The Columbian.
Another landslide between Lyle and White Salmon briefly closed the highway Thursday morning, but Washington State Department of Transportation crews quickly cleared the roadway.
Oversized vehicles are prohibited from using SR 14 for now, a department spokesperson said, citing safety and mobility considerations.
While snarls were standard in SR 14 Thursday, this morning about 8:30, roads were clear.
"There's nothing," said Elaine Bakke of The Enterprise in White Salmon.
Traffic camera images confirmed that road traffic was at a normal level around the Bridge of the Gods and the Hood River Bridge this morning
The 26-35 route has its own challenges, specifically snow and heavy rain.
Oregon Department of Transportation urges motorists to use extreme caution: Visit tripcheck.com before traveling, slow down and leave more room between cars, plan for delays and slow-moving trucks.