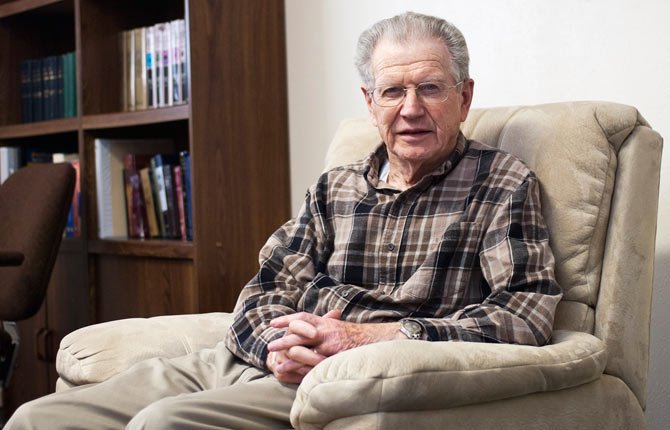 Dr. Julius Jepson, pastor at Life in Christ Center, is giving his last sermon Feb. 23, and will be retiring after 63 years in the ministry.
As he talks about his longevity, he's amazed at the number of years.
"When I say 63 years, that dates me. My wife will probably shoot me for saying that," he joked.
He got the call to serve God young, in his teens, and he never wavered.
"I sensed a definite, direct call to the ministry," he said. "It grew and grew on me and became a life purpose to me. I never doubted my call. I've been devoted to the ministry ever since."
He remembered an older man asking him when he was first preparing to enter the ministry what made him think he was being called to serve God. Jepson answered with the words of the Apostle Paul: "Woe is me if I preach not the Gospel."
"God did not have to drag me into the ministry. The call is there, the purpose is definite. Deep impression of the holy spirit that God called me. When God does that, he also provides other conditions. He gifts you for it. He qualifies you in other ways. The call is not just an inner feeling, its corroborated by other things. He not only calls you, he gives you a ministry, he puts his word in your mouth, he gives you a message."
Jepson graduated from Coquille High School after growing up in Coos Bay. He would ultimately spend 30 years getting a plethora of degrees: first his bachelor's degree from Bethany University in California; then his master's degree in social science from Southern Oregon University in Ashland, and finally, his doctorate of ministry in 1981 from Western Conservative Baptist seminary.
Jepson joked that the doctorate is shortened as D.Min. "You say it right, it says demon."
Jepson is also extensively published. He's written 180 articles and 22 books, including two books published by national Christian publishing houses.
There's a link on the church's web page — www.christcenter.net — to his books, and the website gets 1,500 hits a week from all over the world because of them.
After he gives his last sermon, he doesn't know what the future holds for him.
"I'm just waiting on the lord to see how God directs me. You don't quite know what to do; you just stop until God gives you direction."
He will stay in the area, though.
"The Dalles is our home," he said. "I warned some of my fellow pastors, 'I'll be visiting your churches listening to you preach. Fair warning.'"
He looks forward to doing that, since he was never able to when he had his own sermons to give.
"Maybe I'll learn something. I'll broaden out my relationships. I'm not focusing on one congregation now."
He's also a fisherman, and plans to go fishing more often than just Mondays. "Monday is the pastor's day off and the barber's day off, so quite often on Monday I'd go fish."
He and his late wife Sylbia moved here in 1995 and she passed away shortly thereafter. In 1998 he married Mary Mayfield, whose late husband was also a pastor. "We'd known each other as couples when I worked in Cheney, Wash.," Jepson said.
Jepson has two sons and Mary has five children.
"We have quite a large family," he said.
In 1950, Jepson was at his first job, a six-week stint at Beaver Homes Community Church near Goble, just as Billy Graham was in Portland, also starting his long career in ministry.
"I was a young, single evangelist," Jepson said. "I was out to win the world for Jesus and get the world saved."
Since his start in 1950, he's seen the culture lose its connection to God.
"Oh my, the culture has changed. Oh my. We're dealing with stuff in the ministry today they never dealt with years ago, because our culture has lost the biblical consensus. There was a time years ago when there was a recognition of the fact that the universal moral principles in the Bible were true, they were real, and they applied to culture. Even if people didn't obey the Bible, they knew it was right."
American society itself was founded on Scripture, he said.
"Now, they've lost that. As a result of that, I think we've lost the moorings, we've cut loose the anchor and society is drifting, who knows what's right and what's wrong?
"That's a big change, this moral decline. A lot of people don't see it because they don't have anything to compare it to," he said. But he's seen the changes, including "the breakdown of marriage, the breakdown of the family."
And while he's seen decay in society,
"I think there's been a positive part, too. We've certainly improved in race relations. There's a balance there. But basic morality has gone down the tube."
People have "lost a reverence for God," he said. In fact, that's what he's tried to address in his published works: "What you should know about God, about life, about marriage."
Even though he's seen a cultural decline, he still has hope himself.
"Oh, absolutely, my hope's in Christ. Even though the world has lost its anchor, I haven't. I have an anchor point. That's what I tell the world: Christ is the anchor."
With Jepson's last sermon Feb. 23, the church has appointed an interim pastor while it seeks a new senior pastor. Jepson's son, Wes Jepson, is an associate pastor at the church, and will be in the running for his father's old job.
He'd like to see his son in the senior role.
"It's a natural thing for continuity and consistency. I hope he does get the call."