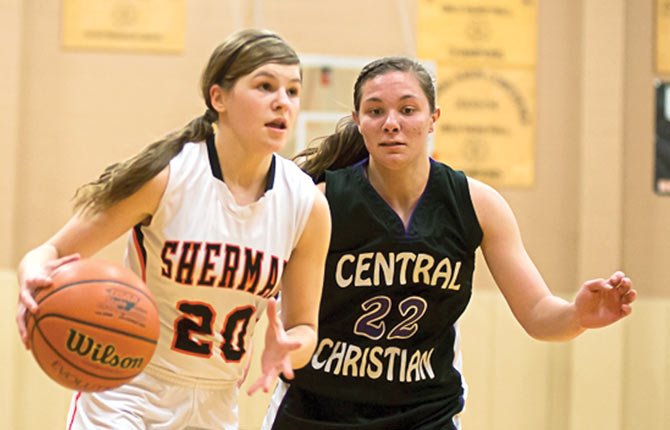 Katie Poirier scored a game-high 16 points, Brittney Orendorff added eight and the Sherman Huskies broke open a 7-2 lead after one quarter with a 30-12 run through the second and third quarters in a 44-28 win over Central Christian Thursday night in a Big Sky Conference girl's hoops tussle at Sherman High School.
"(It was a) very sluggish game for the Husky program tonight," said Sherman head coach Steve Kaseberg. "(There) wasn't much intensity from the girls tonight. (It) was not quite the performance that coach (Steve) Bird and I were expecting after a high intensity game the night before (a 48-41 win over South Wasco County)."
For Central Christian, Kaylin McAfee paced the offense with 11 points, and Abby Hannay dropped seven.
At this point in the season, Kaseberg warns against slow starts and the possibility of taking an opponent lightly.
From here on out, the Huskies cannot afford any slipups, especially with the playoffs looming.
"Basically, it comes back to bringing your 'A' game every time you step out on the court," Kaseberg said. "We didn't accomplish that game level tonight."

No. 22 Sherman (3-9 overall, 4-3 league) hits the road for another league matchup at 6 p.m. tonight versus Horizon (2-18, 0-5).
South Wasco County (9-11, 3-2), who is ranked 30th, is currently the No. 3 seed and next hosts first-place and No. 7-ranked Dufur (16-6, 7-0) at 6 p.m. tonight.