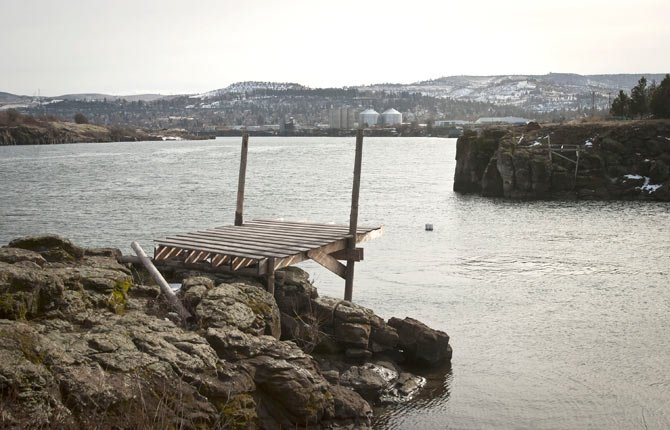 New rules are taking effect soon that will allow Port of The Dalles to remove what it describes as nuisances from the Klindt Cove pocket park.
The port commission passed the ordinance enacting the rules at its Feb. 12 meeting as a means of addressing a structure that cropped up last year at the mouth of the park.
"People have attached ropes from a wooden structure across the cove," said Andrea Klaas, "and it limits the ability for people to come from the river into the cove by boat. It creates a bit of a hazard. The wooden structure was built without our permission. We're concerned that we don't know the safety or integrity of the structure. It's an attractive nuisance at this point."
Port officials don't think the platform is a fishing platform, because an existing platform is fairly close to the new one. Klaas estimates it has been in place about eight months.
"We're not sure what its intent is," Klaas said.
Since the port owns the Klindt Cove property, it could just have the platform removed, Klaas said, but was advised by port attorney Bill Dick that a more specific ordinance should be passed.
"We're just being cautionary and making sure all potential interested parties are notified before we remove this one," Klaas said. Notices will appear in The Chronicle and will be posted in other locations. "After the notice period, we'll go out and remove it."
That should occur sometime before the summer busy season, she said.
The ordinance applies specifically to the wooden structures and attached rope, but also bars others from building or maintaining "any unauthorized structure in the Klindt Cove Park premises, nor tie ropes or maintain ropes across the cove on, in or under the water there, without the express written permission of the Port of The Dalles." It includes a provision for fining an offender up to $1,250.
It also orders the people responsible for the unauthorized structures to remove them and, if that doesn't happen, provides the port with the authority to do so and hold the responsible parties liable for the cost.