The decision to close Interstate 84 at Troutdale rather than Cascade Locks was made over traffic concerns, said Dave Thompson, ODOT spokesperson.
He explained that when I-84 is closed — during snow events, for example — truckers that are driving through often wait outside the closure area until conditions improve. ODOT did not want truckers to line up in Cascade Locks, he said, since there were comparatively fewer amenities available than in Troutdale.
Oversized trucks are not allowed to travel on State Route 14 in Washington — one of the detour options — and others avoid Highway 26 due to the risk of severe weather on the mountain passes.
"It's a matter of safety and convenience in the long run," Thompson added. Local residents, however, are allowed to travel inside the closure area, but may be asked to show identification to ODOT employees before entering.
On Thursday, ODOT geologists and hydrologists were busy assessing the stability of the rock face, but already had one prime suspect as to what likely triggered the landslide.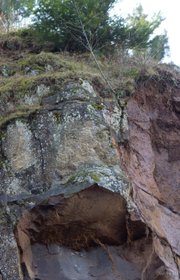 "We've had a lot of wind, a lot of rain, a lot of freezing going on, and that's a recipe for slides," explained Don Hamiliton, spokesperson for ODOT.
Not only freezing, but thawing. After last week's cold, snowy weather, temperatures soared into the 50s, making a big dent in the snow melt and contributing to the conditions primed for landslides.
Location may have also played a factor in the landslide. Exactly one month prior, a boulder described as "the size of a Volkswagen" by authorities dislodged from a rock face at milepost 61 and deposited itself smack in the middle of the right eastbound lane. In 2004, another landslide caused the closure of I-84 near milepost 61 and ODOT removed dangerous boulders from the rock face in the hopes of preventing future landslides.
When asked if ODOT would be taking measures to prevent further landslides at milepost 61, Hamilton said the state transportation agency "can't prohibit landslides" but added, "We take steps when we can, where we can." Hamilton said ODOT often takes down loose rocks, plants trees, or installs netting or other barriers to mitigate the potential for landslides.
ODOT reported Thursday evening that a contractor would begin bringing down loose fragments from the rock face Friday, which was expected to take two full days to complete. After the rocks are brought down, ODOT says clean up of the rock and debris will begin in earnest. ODOT estimates it will take 200 dump truck trips before all the debris is removed. ODOT hopes to open one eastbound lane of I-84 sometime Monday by shifting the median barrier into the westbound lanes.