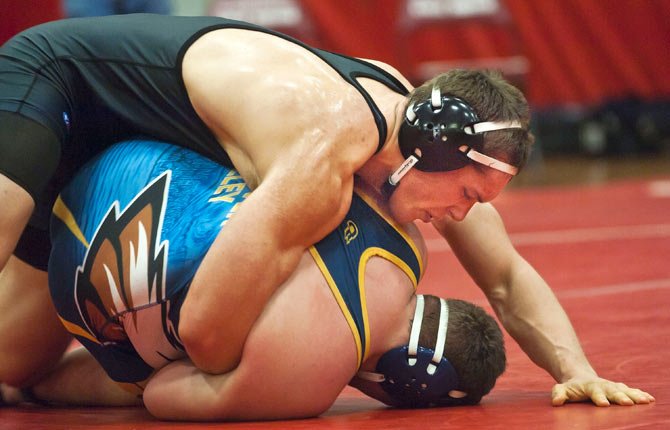 The Dalles Wahtonka High Eagle Indian wrestling team celebrated Senior Night while competing in its final Columbia River Conference regular season home dual meet versus a tough Hood River Valley Eagles squad.
Despite a disappointing 63-12 loss Thursday to the highly regarded and No. 8 ranked Eagles, there were many reasons for optimism among TDW grapplers following the match at The Dalles Wahtonka High School's Kurtz Gym.
A trio of seniors on coach Greg Burkart's squad were participating in the last home meet of their high school career, including Eric Morales, Mason Bansch and Luis Herrera, who were honored in a pre-match ceremony.
Morales capped his final home match with a win and sophomore Joe Linebarger also notched a win as well for the only two TDW victories.
"We've had a tough time this year with the number of athletes on our team after we started the year with 34 kids and now we only have nine," said Burkart. "We had a handful of seniors that kind of let us down because they didn't finish the season and that was frustrating. Some of the kids were unable to continue because of grades and others just didn't want to see things through to the finish."
The Eagle Indians had just eight grapplers to compete against an entire roster of Hood River Valley Eagle grapplers and TDW had to forfeit five matches.
The quartet of Bansch (132 pounds), Cole Davis (120 lbs.), Sam Tyler (113 lbs.) and Mitchell Waters (145 lbs.) each wrestled tough before losing by pins in their weight classifications.
"We're happy with the kids that we have on our team," said Burkart. "They've all worked very hard and I can't complain about their effort. It's just been a struggle though with numbers all year and we need to work hard to improve that in the future."
Morales, ranked ninth in the Rockwell Rankings in the 170-pound division, won by default after HRV's Steven Swafford suffered an injury in their match.
Morales, who qualified for the OSAA Class 5A state meet a year ago for the first time, is focusing on a second consecutive berth to the prestigious postseason tournament in Portland.
"I was very excited because today was the last home match of my career at The Dalles Wahtonka High School and I just tried to give it everything I've got," said Morales, who has accumulated an impressive 20-8 record this year. "I wanted to wrestle the whole match today, but unfortunately I wasn't able to. It was a very fun experience going to the state meet last year for the first time ever. I'm going to try and punch my ticket to state again this year as well."
Linebarger, who has compiled a 21-5 record and is ranked sixth in the 195-pound division, had a grueling match with Hood River's Max Lane, before he won by pin with 4:31 showing on the clock.
"I've won most of my matches by point decisions because I can usually outlast most of the guys in my weight class," said Linebarger. "It's a little frustrating having such a small roster though. It's just a matter of having guys on the team who are willing to make a serious commitment."
Linebarger and Morales are TDW's top expected state qualifiers, but they'll have to earn their spot.
"Eric (Morales) and I are practice partners and we work real good together," Linebarger said. "He has helped me develop better quickness, which is something that is really an advantage for me. Usually, you practice with guys in your same weight class, but we just can't do that because of the small amount of wrestlers on our team."
A total of nine Eagle Indian grapplers will compete in the next meet Feb. 21-22 at the District 2 Regional Tournament at Portland's Marshall High School.
The top four from each weight class will advance to the 5A state meet Feb. 28-March 1 at Veterans Memorial Coliseum in Portland.
"I think Eric and Joe have an excellent chance of reaching the state tournament," said Burkart.
"It's just a matter of putting in a good set of matches at the regional tournament. They'll have to be ready to go next week in order to earn a spot at state. That's what we've been training for all season and that's what we're going to try and accomplish at regionals."