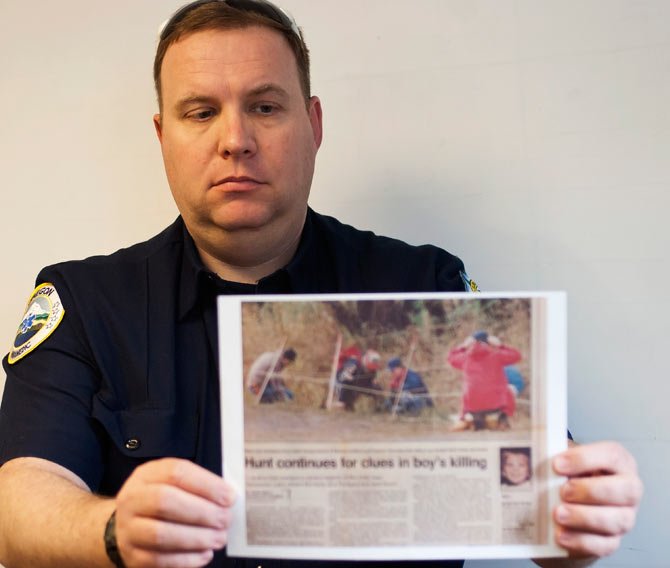 Some events haunt in unexpected ways. In a 20-plus year career as a paramedic/firefighter at Mid-Columbia Fire & Rescue, Joel Brown has seen plenty of unpleasant things. But the incident that finally burrowed in and brought him low, just a few years ago, happened clear back in late summer of 1989.
It was Labor Day weekend, and he was living in Vancouver and volunteering for a search and rescue (SAR) unit.
He got called out to do a search of David Douglas Park, where a passerby had found a stabbed and bloodied boy – who soon died. Later, a dad reported his two sons missing, and police realized another victim was probably somewhere in the park.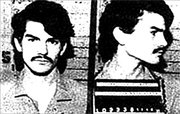 As Brown pulled up to the search staging area, "My headlights tapped a little yellow car with its dome light on. As I drive past the car I see an individual I can describe down to the smallest detail even today. And the reason why is he looked like a guy in my SAR unit. [I thought] 'Why the hell is Steve here and how did he get here so quick?'"
He turned around to pull up behind his friend, but as he did, the yellow car sped off. "And another thing I thought was, 'Why did Steve look so angry?' And when I look back on it now, 'Why did he look so evil?'"
When no one else showed after 20 minutes, Brown went to a nearby store and called the SAR unit and learned the staging area had moved.
He arrived and asked after Steve, the man he was sure he'd seen, but Steve never did show that night. Eventually the body of a second boy was found. By then, Brown had already seen many dead bodies, but this was his first child homicide victim. The boy was covered with defensive wounds. His pants were around his ankles.
"Man, that's hard to talk about," Brown said as he recounted the condition of the boy's body.
Brown mentioned more than once that night the strange sighting of the yellow car. But the horror of seeing the boy's body, and just processing all he saw, kept him preoccupied for a few days.
"But I was dwelling that something was out of place." Three or four days later, he called the Vancouver police and left a detailed message about the man in the yellow car he'd seen that night near the scene of the double murder.
The police never did call, and he now understands that they received thousands of leads. But Brown still blames himself, to a degree, for what happened next.
"In hindsight, I should've camped out in front of their door, because a few weeks later a little boy named Lee Iseli was abducted. His body was found by Vancouver Lake."
The little boy was blond and blue-eyed, and had recently celebrated his fourth birthday.
But it would be many years before this particular set of facts would grow to weigh so heavily on Brown.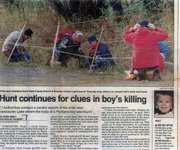 Search and rescue were again called out to find evidence related to Lee Iseli's murder. Brown, then 21, was told he could lose his job if he skipped work to go to the search. He didn't care. He told them, "Hey, you do whatever you need to do."
"I ended up on the front page of the Oregonian, on my hands and knees looking through grass."
Three weeks later, a man would attempt to abduct a boy from a Camas movie theater bathroom. The boy yelled and escaped. The man ran and got into his vehicle — a little yellow car — but was captured after it stalled.
Brown instantly recognized the mug shot of Westley Allen Dodd, who was eventually convicted in a high-profile case of murdering Lee Iseli and the two boys at David Douglas Park.
Dodd was hanged in 1993. By then, Brown had started working in The Dalles at Mid-Columbia Fire & Rescue. About once or twice a year, he'd get "really, really bothered" for about an hour about the death of Lee Iseli.
Eventually, he and his wife LeeAnn had a son they named Maverick.
Then, late one summer about five years ago, Brown started to fall apart. He began crying at work, and had to go home a few times. He'd have to pull over because he'd be crying so hard.
"One day I'm leaving work and once again I had to pull over to the side of the road and I'm bawling my head off and suddenly it hits me," he said.
He realized he was approaching the anniversary of this event – always a hard time for him – but this time, he has his own blond-haired, blue-eyed boy who was about to turn 4.
Just like Lee Iseli.
"My kid is triggering this," Brown realized. "How strange is the mind that I've been able to deal with this my entire adult life for the most part. It's always bothered me twice a year, now all of a sudden we are approaching the anniversary of this event and we are approaching the birthday of this boy and he and my son have similar features."
He finally became so incapacitated he decided to see a counselor. In another unusual twist, Brown was able to resolve his issues after just one successful counseling session.
And Brown thought he had a long stretch of therapy ahead, especially after he attended a conference on Post-Traumatic Stress Disorder in emergency responders, and basically heard his own symptoms listed.
"Flashbacks, inability to sleep, images kept popping up in my head. You almost couldn't work or drive. It's almost like you're paralyzed. Extreme emotions, irritability, crying."
As for his single visit, Brown can't actually remember much detail, beyond talk of rewiring his thought process.
"I just remember this relief after talking to him."
Now, 24 years after the initial event, and five years after his delayed reaction to it, that relief is not total, but it is significant.
He still blames himself for Lee Iseli's death.
"My not paying attention, for lack of a better word, cost a little boy his life."
Now, he can talk about the incident, but it's still hard.
"I can tell that when I tell it, it brings back emotions."
While talking to a reporter on the phone, Brown did a Google search on Dodd and came across an image. "Here's a picture of Lee Iseli right here." The line went silent briefly. When he spoke again, his quiet voice radiated the still deeply felt loss that Dodd had inflicted: "What a dirtbag."