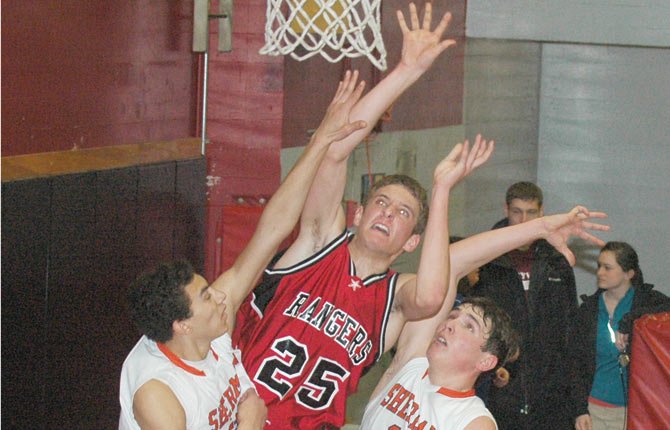 From his days as a middle school athlete sitting behind the Sherman bench during its 1A state third place finish in 2012, Husky freshman Max Martin always knew he wanted to be a pivotal member of that winning basketball legacy.
The season came down to a tiebreaker matchup between Sherman and Dufur Monday night at Kurtz Gym, but with the heroics of Austin Kaseberg and the dizzying defensive display that held the Rangers to 12 of 52 from the floor, the Huskies kept their season alive with a 44-30 win.
Not only does Martin get to make his first district trip, but also seniors Nick Coleman, Ben Holliday and Cody Jauken can finish their careers with an extra feather in their cap.
"I have been watching this team since I was a sixth grader, before then," Martin said. "I always thought that is was fun seeing Kyle (Burnett), Scot (Stroud), Riley (Brown), Zach (Smith) and all of those guys out there playing hard for Sherman basketball. I just want to be like them. I remember watching those guys at state taking third place and I was so happy for them. I want to get there too. I want to be part of that winning legacy that they helped set up."
Both teams slugged it out for the first eight minutes and the scoreboard read 6-6.
As the second period pressed on, the Huskies had the upper hand in terms of momentum, using a 17-4 spurt to lead 23-10 at the break.
Dufur had one basket in the frame, a three-pointer by Bailey Keever.
On the other side, Sherman was able to run a little bit and they added some inside penetration for layups and short jumpers.
Kaseberg scored three field goals in the second quarter, Kyle Fields added a pair of baskets and Martin drilled a 3-pointer to help move the lead to 13 points
"It wasn't much about the offense, it was about us getting the stops on defense, boxing out and getting rebounds," Kaseberg said. "Dufur is a tough team to stop inside, but we were able to control them for the most part. We did not expect the score to be what it was. We thought it was going to be close the entire time. We just came out fighting the whole game."
In the third quarter, both teams found offense at a premium, as just eight field goals were made, Dufur had three, all from junior forward Jake Kortge.
Kaseberg nailed two more shots, and Coleman, Coles and Martin had a basket each to run the lead to 33-18 through three periods.
Dufur managed its best scoring output in the fourth quarter with a 12-11 total, but the hole created by Sherman was too deep when it was all said and done.
Kaseberg added to his numbers with four more field goals, and Martin dropped a 3-pointer for the Huskies.
Kortge had six points, Connor Uhalde tallied four and Caldwell hit one basket for the Rangers.
After the game, Dufur coach Tony White could not pinpoint exactly what went wrong.
There were several trains of thought as to why his team was unable to continue its successful trend.
"The bottom line is the kids just did not show up tonight," the coach said. "Our kids, they fought, it's just they could not do anything right tonight. We couldn't make anything. It was kind of the perfect storm tonight. Maybe they were emotionally drained, who knows. We didn't execute at all in any phase."
Of the 12 field goals hit by Dufur, Kortge had six of them and he tacked on a 4 for 6 effort from the line for 16 points.
Uhalde had six points, Keever netted five and Caldwell had two points.
"Defense carries the offense," Martin said. "I thought that we played the Bryson Caldwell kid and the Morris kid really well. We didn't let them score too many points, so that helped us a lot. I credit Nick (Coleman) and Ben (Holliday) for not letting them get going. They have played really well to help us get to this point."
In all, six Sherman players hit baskets on 20 of 47 from the field, as Martin's eight points and Coleman's six points supported Kaseberg.
Fields had four points, and both Coles and Holliday made good on one field goal apiece.
The season keeps chugging along for the Huskies, who ended the regular season with 14 wins and the No. 3 seed for districts.
With a roster of five freshmen and four sophomores, coupled with a first-year coach in Bill Blevins, who instituted a new philosophy, it is quite the building block for future success down the road.
Sherman has won five of its last six games, including two wins over Dufur and one over South Wasco County.
With a game at 4 p.m. Thursday in Hermiston versus Nixyaawii, Blevins is hoping his team can maintain its edge.
"We have been in playoff mode for the last three weeks and we have done some very good things," the Husky coach said. "Along the way, we somewhat redefined ourselves and what we do both offensively and defensively. We have not run up and down the court as much, we slowed things down and become methodical trying to out-execute teams. It has worked for us well to some degree. We just want to keep it going from here."
Although down after Monday's season-ending setback, White did not bat an eye when visualizing the run his team went on this season.
The Rangers nearly tripled their win total from 2012-2013 and worked impressive wins over Perrydale, Culver, Hosanna Christian, Sherman and South Wasco County.
White had to work in freshmen guards Keever and Uhalde along with a youngster in Levi Morris for a group of 10, including six juniors and senior, Austin Olson.
"It was such a great year for these kids," White said. "They are moving towards that next step of being a competitive basketball team. These freshmen are learning and gaining experience. They are coming on for these next three years. The juniors have never had this many wins and never been this competitive, and so with one year of philosophy changes, different offenses and more defenses, the kids are believing more in what we are doing here."