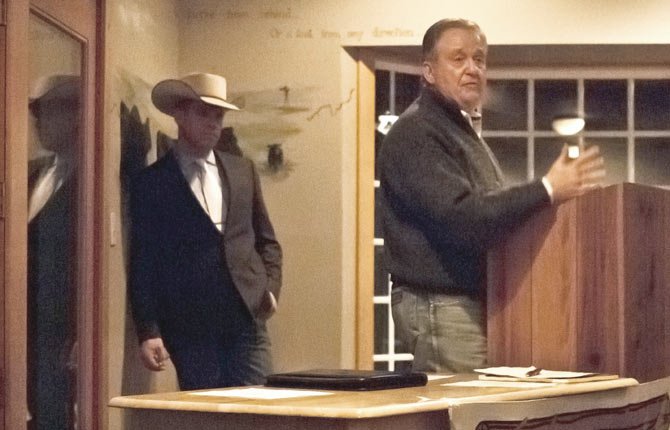 Members of the North Central Livestock Association gathered in Maupin Saturday night for their second annual banquet and business meeting.
The nonprofit organization of Sherman and Wasco County ranchers is headed by Keith Nantz, business partner for the Dillon Land and Cattle Company, which is headquartered in Dufur.
The prime rib meal with all the trimmings was served to about 60 people at the Imperial River Company and sponsored by Mid-Columbia Producers, PayneWest Insurance and Bank of Eastern Oregon.
Ray Sessler, president of the Oregon Cattlemen's Association and a Prineville rancher, provided an overview of efforts being undertaken to educate students and citizens about where their food comes from.
Nantz is participating in one of these outreach programs called "Oregon Beef, A Wholesome Choice" and visited the Yamhill Carlton Intermediate School in January to talk with students about ranching. This spring, the fifth through eighth graders will take a field trip to the Oak Springs Road property between Maupin and Tygh Valley to learn more about his operations.
Sessler told his audience at the Feb. 15 event that the biggest obstacle to ranching was the increasing burden of laws and regulations involving water resources, land use and endangered species protection.
"Politically, I think the number one thing we have to concern ourselves with is government," he said.
He said it was imperative to teach people who live in large metropolitan areas how policies enacted in Salem are increasingly hampering the ability of rural farmers to feed the nation.
To protect the agricultural industry from bad laws, the association has hired two full-time lobbyists that monitor activities at the legislature.
Sessler said their active participation in the policy-making process helped stop movement of a bill last year to levy an annual management fee on water rights and other "harmful" measures.
"We put out information on good and bad bills and do everything that we can to help you," he said.
He said there are 11,000 registered brands in Oregon and the cattlemen's association has been their voice since 1913.
He said ranching generated $900 million each year for the state and because that money was turned over four or five times, the industry was a huge economic engine.
The estimated gross cash farm income for 2012 in Sherman County was $3.3 million and that amount almost doubled for Wasco County, according to statistics compiled by the Oregon State University Extension Service.

"People are beginning to realize that they need ranchers," said Sessler.
"And I can see that our government and other lead officials are becoming more and more aware of that what goes on eastside matters to what goes on in the west."
Prior to the dinner, David Bohnert, director of Oregon State University's Eastern Oregon Agricultural Research Center in Burns, gave a presentation about using supplemental feed in cattle production to the best health and economic advantage. He provided information on the different options available.
Following the meal, Todd Nash, chair of the association's Wolf Committee and an Enterprise rancher, provided information on the growing threat to livestock owners from predatory wolves.
During the 2013 legislative session, approval was given to set aside $200,000 per biennium to compensate ranchers for the loss of sheep and cattle killed by the four packs that inhabit Oregon.