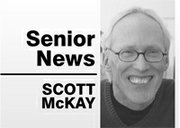 Staying socially engaged provides many benefits for your overall health and wellbeing: new relationships, feelings of accomplishment from learning new skills, the knowledge and information gained from others, and mental stimulation.
In fact, a 2009 Archives of Internal Medicine study showed that social activity for older adults is just as important as exercise. The study found that folks who were socially inactive experienced physical decline at a rate one-third more rapid than those who were socially active — even if they exercised regularly.
Here are few options to get you out and about: Enjoy a nutritious lunch at the Mid-Columbia Senior Center provided by Meals-on-Wheels for a suggested donation of $3.75 for anyone over 60, participate in religious or spiritual activities of your choice, or attend community events such as the Feb. 23 A Taste of Literacy at the Sunshine Mill.
By popular demand, Nehemiah Brown, a Pacific NW vocalist, will be returning to the center on Friday, Feb. 28, from 7-9 p.m. .
7H3 5IMCO3 BOY5 WILL BE BACK A7 7HE C3N73R N3X7 7U35DAY 7H3 25TH PLAYING 7H3IR ROU5ING 57YL3 OF MU5ICFOR YOUR LI573NING AND DANCING 3NJOYM3N7. 7H3 DOOR5 OP3N A7 6:00.
I stumped most everyone last week except Alex Currie who is the winner of a free Saturday Breakfast on March 15. And the two Americans who won Gold in the 1960 men's and women's figure skating competition? They were David Jenkins and Carol Heiss, who later starred in the movie "Snow White and the Three Stooges."
For this week's "Remember When" question, here's something a little easier but still sports related. Before Bob Costas and Bryant Gumbel were the prime time hosts for the Olympics on NBC, Jim McKay was the host for six Olympics on ABC. But he was also the host of what weekly sports show that spanned the globe "to bring you ... the thrill of victory... and the agony of defeat..."? And for the bonus question, what sports event do you remember most vividly from that sports show? E-mail your answer to mcseniorcenter@gmail.com, call 541-296-4788 or send it with two season passes to the ESPN Sports Complex in Orlando, Florida.

Well, it has been another week. Until we meet again...
"I've learned that you can tell a lot about a person by the way (s)he handles these three things: a rainy day, lost luggage, and tangled Christmas tree lights." Maya Angelou
Menu
Wednesday (19) Pork Medallions with Potato and Gravy
Thursday (20) Philly Beef Steak on a Roll
Friday (21) Glazed Meatballs over Noodles
Monday (24) Chicken Pot Pie
Tuesday (25) Beef Stroganoff over Noodles