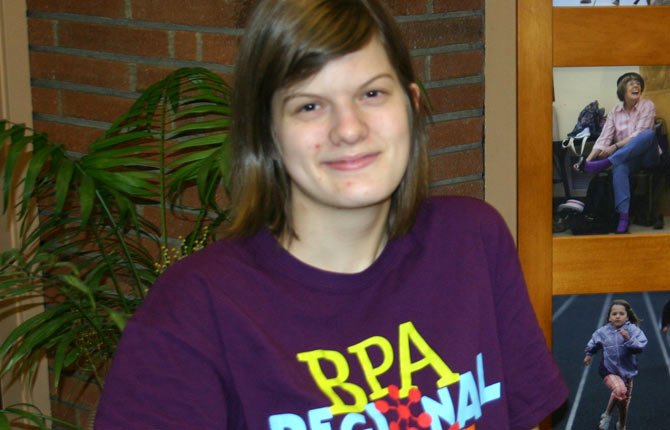 Recently awarded the distinction of being named The Dalles Area Chamber of Commerce's 2014 Outstanding Youth of the Year, Aletta Maier definitely has a lot going for her.
Whether it's participating in after school robotics, working as a student volunteer for HAVEN, helping out the drama department with its newest show, or filling out scholarships, Maier is one active member of the student body.
A senior at The Dalles High School this year, Maier says she sees her education as "a privilege," and that she works hard to take advantage of all the resources and opportunities around her as much as she can.
An active participant in the regional science bowl since her sophomore year, Maier says both science and math have been major areas of interest for her for years.
"While everyone else sort of dozed off when our science teacher informally introduced the topic of physics last year, I just immediately thought: "Oh my god, this is what I want to do with my life!' After I got home, I immediately searched for more information about it on the internet and have just been hooked ever since."
When asked what it is she most likes about physics, she said, "It's the theory of everything and it tries to explain how we experience the world and the universe in which we live. If we're going to impact the world, I think the most profound way to do that is to help explain how it works."
"I think that when things click the way they do in science and math, it really is explaining something more about how the world works. Learning new things like that makes me excited and really gets me fired up about the subject; math and science just do that for me."
Outside of school, Maier said her biggest passion is helping out at HAVEN for Domestic Violence. As the HAVEN Teen Troop mentor, she said she just recently gave a series of workshops for teens on "how to have healthy relationships."
"It really is all inclusive and about making sure people know how to practice tolerance in their daily lives and interact in healthy, positive ways… It's definitely something I want to volunteer in for the rest of my life."
"I'm pretty passionate about making sure everyone has their own equal opportunity to achieve happiness in life. There are some really unfortunate disadvantages that society places on people just because they identify a certain way, and I hope to be able to break down those barriers and ideologies in any way I can."
"The thing about this type of education," she said, "is that it's pretty contagious; once somebody becomes educated in it, they will then go out and educate their friends about it and it will just go everywhere… Or, that's what I hope at least. I think it's the best way that I can improve the world at my stage in life. I may be 17, but I want to do my part."
In her free time, Maier says she enjoys spending time with friends, learning more about physics on the internet, taking photographs and playing guitar.
Maier says she hopes to pursue a degree in physics at a small liberal arts college and is currently hard at work on applying for the scholarships she hopes will get her there.