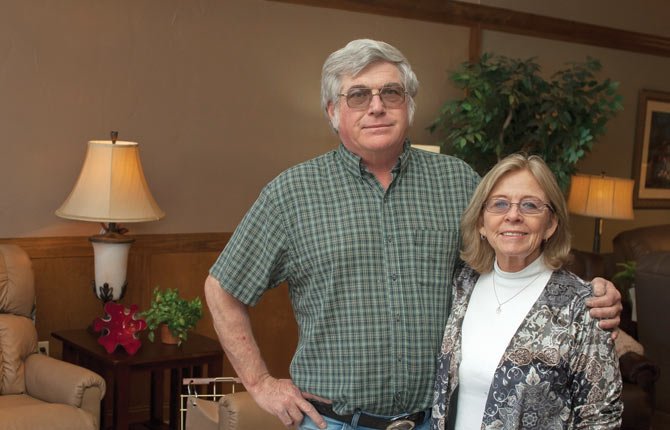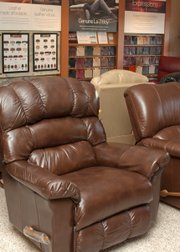 Like many of their customers do on occasion, Downey's Furniture has rearranged their furniture, combining their leather displays with other upholstered furniture in the Third Street showroom and their bedroom and drapery departments in the Second Street showroom.
Both of the showrooms are on Jefferson Street downtown.
Longtime owners Ron and Carol Vergeer will oversee the sales of their La-Z-Boy line and other living and dining room furniture. In addition to what's in their showroom, they have also established a custom order center.
"About 25 percent of our La-Z-Boy sales are custom order," said Ron. "This allows us to give our customers what they want, not just what's on the floor. That way they end up with what they like and we end up with a happy customer that will come back."
Customers can find their choice of colors, fabrics and wood finishes.
They can also special order dining room sets and case goods, Carol noted. While the store doesn't have a lot of room to display these large items, they can draw from American-made, solid wood lines.
"When somebody is investing in something like that, they prefer to special order," Carol said. "We have samples so they can see the quality."
The change in organization has necessitated some remodeling work. The former storage room has been opened up and remodeled to serve as leather furniture display, with new windows that add brightness not only to that area but to the larger showroom beyond.
The Vergeers daughter and son-in-law, Ronelle and Alejandro Masters, will be operating the Second Street portion of the business.
"It will provide an opportunity for our daughter and son-in-law to build their own business perspective and business approach without daddy interfering," Ron said.
In the Second Street side, a portion of the building has been remodeled to serve as a nursery for the Masters' young son.
Establishing two divisions also makes sense from an operational standpoint.
"We had people running back and forth between the two stores a lot," Ron said.
"This allows us to actually concentrate on sales specific to one location of customers," Carol added.
Downey's caters to middle market price points, "and can go upper if we have to," said Ron. The furniture is all hardwood and American-made, not just assembled here. Manufacturers come from Eugene, Seattle, Indian and Redlands, Calif., where La-Z-Boy is manufactured.
He said the store also looks for select lines that provide good support.
"A customer bought a dining room chair and table set and one of the swivels on a chair died and after 16 years the factory replaced it — no charge," he said. "You don't get that from China."
He says Downey's doesn't carry lines from a lot of furniture manufacturers.
"But the ones I do carry I'm important to so they will respond to me when I call."
Downey's Carpet and Furniture started 46 years ago in a tiny store on Third and Monroe streets. Carol's parents started the store and she and Ron took it over when they retired about 30 years ago.
While the interior remodeling is ongoing, Carol said the community can expect to see exterior improvements soon, too.
"We're always trying to upgrade our store," she said.