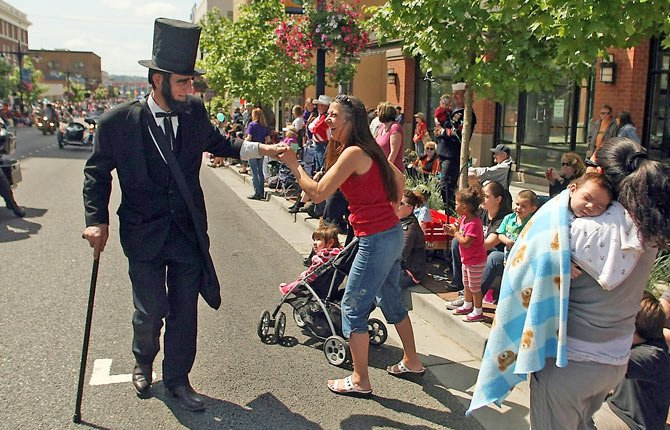 BREMERTON, Wash. (AP) — The man who portrayed Abraham Lincoln at the Armed Forces Day Parade and other patriotic events passed away Feb. 12 — the 16th president's birthday.
Robert Brown lived in a cabin without power and water on 5 acres above Tahuya. He suffered a brain abscess on New Year's Day, underwent surgery at Harborview Medical Center in Seattle and was recovering at Life Care Center in Port Orchard when a seizure took his life, said former wife Rena Farrar. He was 72.
Brown, who closely resembled Lincoln, started emulating him in Bremerton's Armed Forces Day Parade. He wasn't an official event participant, but joined in spontaneously. Brown was a regular attraction at his hometown Tahuya Day parade, was included the past couple of years in the Veterans Day ceremony at Kitsap County Fairgrounds and took part in Civil War re-enactments. He posed for photos with children and handed out thousands of American stick flags.
Lemoine "Flag Man" Jevne invited Brown to participate in a Fourth of July picnic at his home across the Hood Canal bridge.
"He said the Gettysburg address, and people just loved it," Jevne said. "He read where Abe Lincoln would take his hat off and reach in there and take out his notes, and he'd do the same thing."
He "was a real mystery man," said Sanda Smith, who coordinates the Veterans Day event with husband Earle. All people knew was he lived alone in a remote area where there was no cellphone reception and they had to leave messages at a Belfair restaurant.
Brown was no stranger at the diner, J&R's Hideaway Grill, where he ate most of his meals the past six years.
"He loves his oatmeal and blueberry pancakes," said server and friend Donna McDonnell. "Everybody's going to miss him dressing up like Abraham Lincoln, that's a given. He'll be missed by all."
Brown joined the Navy and served three tours in Vietnam, said Farrar, who remained friends after their divorce. He had a bad back and used braces in his cowboy boots yet still walked in parades and carried 5-gallon cans of water from a neighbor's house to his cabin.
When he wasn't dressing as Lincoln, Brown wore suits, causing many to believe he was wealthy. He owned about 50 suits, and coats and white shirts galore, Farrar said. A mechanic in Iowa before moving to Washington in 1982, he also accumulated old cars and tools on his 5 acres, and collected knickknacks and books, especially about Lincoln and the Civil War.
"He was always doing something for somebody else," Farrar said. "He did a lot of things for people, but didn't take care of himself real good."
Brown's only surviving family is a sister in Iowa and several nieces and nephews. In May, his ashes will accompany unclaimed remains of deceased veterans in the Run to Tahoma (National Cemetery) in Kent. No services are planned at this time.
---
Information from: Kitsap Sun, http://www.kitsapsun.com/
Copyright 2014 The Associated Press. All rights reserved. This material may not be published, broadcast, rewritten or redistributed.