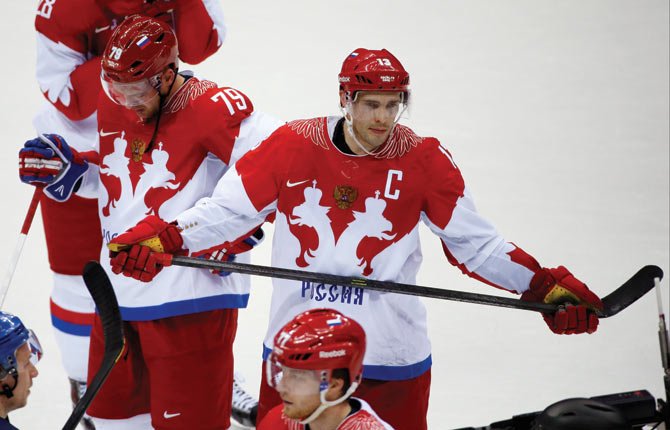 SOCHI, Russia — A Russian hockey team with immense expectations lost its shot at an Olympic title Wednesday at a Winter Games tempered by violence both in the host city and in nearby Ukraine.
Finland beat the Russians 3-1, knocking them out of the quarterfinals and ending their chances of winning a hockey gold medal in front of their own fans. Russian and Soviet teams have won eight gold medals in hockey, but none in the last 22 years.
Ted Ligety of the United States won gold in men's giant slalom, the first American man to win two Olympic medals in Alpine skiing. And American-turned Russian snowboarder Vic Wild won the men's parallel giant slalom, just minutes after his Russian wife, Alexa Zavarzina, won bronze in the women's competition.
In downtown Sochi, at least 10 Cossack militiamen attacked the Pussy Riot punk group with horsewhips and removed members' trademark ski masks. The confrontation lasted less than three minutes and no one was arrested.
Earlier, Sergei Bubka, the pole vault great who heads the Ukrainian Olympic Committee, urged both sides in Ukraine's political crisis to halt the violence that left at least 25 people dead and 240 injured in Kiev on Tuesday.
(See page A3.)
"I'm shocked by what is happening in my native country — especially because the violence is taking place during the Olympic Games, the world's most peaceful and democratic event," Bubka said.
On Day 13 of the Sochi Olympics, Norway won gold in the women's cross-country team sprint and Finland won the men's title. Medals also were being awarded in three other sports — speedskating, biathlon, and bobsled.
CROSS-COUNTRY: Marit Bjoergen captured her fifth career Olympic gold medal when Norway won the women's team sprint. Bjoergen opened a sizeable lead in the first half of the race, and then turned it over to teammate Ingvild Flugstad Oestberg to maintain. The Norwegian duo finished 9.09 seconds ahead of Finland, which took silver. Sweden took bronze. In the men's race, Finland took advantage of a fall that slowed its two closest rivals in the final. Russia finished second for the silver, while Sweden's won the bronze.
SNOWBOARDING: Wild grew up in White Salmon, Wash., and applied for Russian citizenship after marrying Zavarzina in 2011. He then joined the Russian snowboarding team. Nevin Galmarini of Switzerland finished second for the silver, and Zan Kosir of Slovenia won the consolation race for the bronze. In the women's race, Patrizia Kummer cruised to victory — and Switzerland's sixth gold medal of the games — when Japan's Tomoka Takeuchi missed a gate midway through the second run of the finals.
CURLING: Canada and Sweden will play for the gold medal in women's curling after winning semifinal games that went to the final shot.
Copyright 2014 The Associated Press. All rights reserved. This material may not be published, broadcast, rewritten or redistributed.