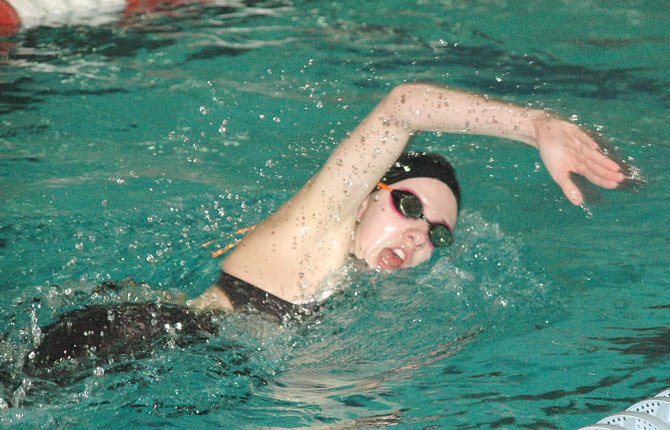 Erin Nelson made it three years in a row.
Ming Ou is the new kid on the state block.
The Dalles Wahtonka duo stormed the scene at Hood River Aquatic Center this past weekend with first-place finishes in their respective events to earn a spot at the OSAA Class 5A state meet Feb. 21-22 at the Mount Hood Community College Aquatic Center in Gresham.
"We will see how Erin and Ming do at state," said TDW head coach Scott McKay. "They both will have to drop some more time to reach finals at state, but they both swam fantastic races to win districts to go to state."
Once again, Nelson made her mark in the 500-yard freestyle and the Tribe senior tacked on a solid effort in a show of versatility in the 50-yard freestyle.
In the 500, Nelson re-set a new high school and district meet record with a final time of five minutes and 44.35 seconds, beating her next opponent by more than 40 seconds.
Nelson added another gold medal in the 50-yard freestyle, where she stopped the watch in a personal-record of 26.76, .33 seconds better than Hood River Caitlyn Fick (27.09).
Throughout the season, Ou has shown that he had the potential to raise his game up a few notches to a state level, and Saturday he proved his worth in the 100-yard butterfly.
The Eagle Indian senior qualified for the final with a time of 1:00.42, and then he set a personal record of 58.75 in the finals, which is two seconds faster than he had previously performed.
Hood River's Carlos Galvez wound up in second place at 59.57 and Jon Jennings added a 1:01.23 for third place.
On the team front, Pendleton scored top honors in the boys and girls classifications.
The Lady Bucks tallied 105 points, Hood River Valley had 100.5, TDW motored through for 80 points and Hermiston finished fourth with 21.5.
Pendleton's boys had a larger winning distance with 122 points, 43 points in front of second-place Hood River Valley (79).
TDW had 51 points and Hermiston ended the day with 33 points for fourth place in the standings.
If not for a few ticks of the watch, TDW could have had another state qualifier, as Andrew Clifford came within inches and seconds of earning his spot in the 200-yard freestyle.
Clifford, a sophomore, churned out second place with a final marker of 2:02.33, a shade behind Pendleton sophomore Lukas Johnson (2:01.87).
"Andrew swam a real gutsy race," McKay said. "He will only get better and with two more years ahead of him, he has a bright future. He also came in third in the 100 breaststroke (1:15.00)."
The boys' 200-yard medley relay team of Ou, Max McClennan, Clifford and Connor Shortt finished third at 1:43.27.
Added to that, the group of Christian Benson, Clifford, Ou and Shortt secured second place in the 200-yard freestyle relay with a time of 1:58.25, 10 seconds behind district champion Pendleton (1:48.18).
TDW's 200-yard medley relay squad of Bri Stavaas-Jamack, Nelson, Allie Wood and Annessa Clear played their cards right in their attempt with a time of 2:09.65, 12 seconds behind first-place Hood River Valley (1:57.12).
The 400-yard freestyle quartet of Hannah Weeks, Lauren Thalhofer, Molly Nelson and Stavaas-Jamack placed third in their lone try, combining forces for a 4:35.91.
Individually for the girls, Wood finished easily in second place for her efforts in the 200-yard individual medley where she touched the wall in 2:42.38.
In the 100-yard butterfly, Wood's marquee event, she made a big step this year finishing in second place with a personal-best of 1:10.22, a two-second improvement.
McKay is looking forward to getting Wood back in the pool next season for a possible state berth.
"It will be interesting to see what she can do next year," the Tribe coach said.
Clear, a junior, who swam on the high school swim team for the first time, fared well in both the 50-yard freestyle finishing fifth with a tally of 27.49.
She added second place in the 100-yard freestyle, dropping more than two seconds off her previous best with a time of 1:01.19.
While Erin Nelson set the bar high for her teammates, younger sister, Molly, appears primed to take the baton from here on out, as she is setting personal records in just a short span.
Molly Nelson dropped more than seven seconds off her previous best for fourth place in the 200-yard freestyle where she stopped the watch in 2:22.69.
The prized freshman shaved additional time, four seconds, in her top event, the 100-yard backstroke, with a final rally of 1:09.32 for third place, five seconds behind Hood River Valley champion, Danielle Miller (1:04.08).
When summarizing the overall performances of the medalists and other performers, McKay highlighted other athletes who swam personal bests, including McClennan, Emily Peterson, Weeks, Rashed Al-Qarra, Denis Kazakov, and Benson.
While McKay will look to replenish a veteran roster with some up-and-coming standouts, he applauded the hard work and dedication Erin Nelson, Thalhofer, Danielle Perry, Ou, Benson, Shortt, Al-Qarra and Kazakov showed through their careers to help bring the swimming program to prominence.
"We are going to lose again a good core part of the team next year," the coach said. "That is going to make a big hole, particularly with the guys with only Andrew coming back, because Max will be spending the next school year in Denmark on a Rotary exchange."
McKay sees plenty of building to do on the boy's side, but emphasized the strength of a girl's team of Wood, Clear, Staavas-Jamack, Hannah Mazeski and five freshmen in Molly Nelson, Weeks, Maya Hernandez, Peterson and Victoria Little, who have a lot of potential to compete with Pendleton, Hermiston and Hood River Valley.
"The team did a great job at districts and I couldn't have expected much more," McKay said. "They dropped time, swam some great races, dealt with adversity and supported each other. I was very proud of the team."