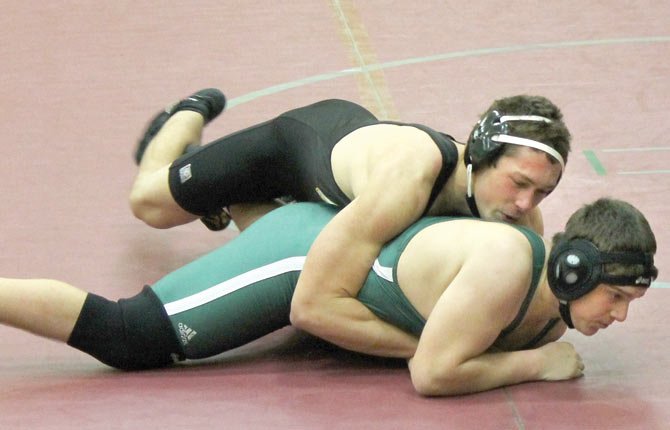 As a trio, The Dalles Wahtonka wrestlers Eric Morales, Joe Linebarger and Mason Bansch have some unfinished business to take care of.

Through some obstacles, adversity and injuries, each of them knows what it would mean to shrug off past issues to earn a spot among the elite at state.
The first step is finishing in the top-4 at this weekend's two-day regional meet starting Friday at Marshall High School in Portland.
Hermiston (No. 2), Pendleton (No. 7) and Hood River Valley (No. 8) are high quality, strong squads that will likely have a number of state qualifiers.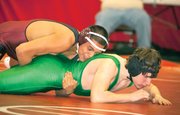 Morales (23-9 record) is ranked seventh at 170 pounds, had his chance a season ago and was successful enough to punch a state ticket and win a match.
"The coaches (Greg Burkart, Paul Beasley) have pushed me hard to become a better wrestler and we always have very intense practices," Morales said. "They've taught me a lot of good techniques. I think I'm in pretty good shape and I feel confident I'll have a good performance at regionals."
The holy grail of any top athlete at TDW is to get his or her name etched inside any one of the larger-than-life sized No. 1's smattered across the walls surrounding Kurtz Gym.
Your name in the No. 1 means you are the best.
In all sports, there are a select few who have staked claim to this honor.
Morales is determined, at all costs, to earn his rightful place in the annals of Eagle Indian history.
"Since it's my senior year, I'm very excited about having another opportunity to advance to the state meet," Morales said. "It's my last chance and I hope I can do it. I feel a little nervous though because anything can happen at regionals, but I'm certainly going to try my best. My goal is to be one of the top eight placers at state."
Through the off-season workouts, countless hours of practice and blood, sweat and tears, this fateful pilgrimage has proved to be just out of reach for Bansch, another senior.
Last year, he did not wrestle at regionals because of a staph infection.
At the beginning of this year, things still did not go right for the senior, as he missed several bouts due to unforeseen circumstances.
"I felt like quitting and walking away because so many obstacles have been put in my way," Bansch said. "You know what it is that you have to do to become successful. You can never quit on yourself or else you let the team down."
Bansch (3-3) appears to be finally healthy enough to participate at regionals, and he won two of his final three matches.
He said his priorities are to stay in shape and build towards the end.
"I need to stay focused," Bansch said. "Nothing else matters now but just doing it. That is what makes it count. I am going in every day knowing that I did this for a reason. I want to give myself a chance to punch that ticket and get to the state tournament. I am working hard for it."
Entering his high school career, Linebarger had plenty of fanfare with a district championship in the middle school ranks.
In his freshman year, Linebarger appeared to be making a run for state, but a shoulder injury struck a few weeks before regionals to derail his freshman season.
So far, Linebarger is ranked fifth in the state at 195 pounds with a 25-7 overall record, adding a handful of second-place tournament outcomes to his resume.
The 2013 shortcoming has lit a fire in the belly of Linebarger and he not only added mat minutes during the summer, but joined TDW's cross country team in an effort to improve endurance.
"The coaches always tell me how strong I am even though I don't know it yet," Linebarger said. "They tell me to shoot in and keep going and take my opponents down. It has been working for me well."
Imagine you are an opponent of Linebarger.
Just seconds before the opening whistle, you are asked to shake his hand.
Whatever you do, do not stare into his eyes.
The term, "the eyes are the window to the soul" ring true.
On the surface, Linebarger has that menacing appearance.
With the fierce pupils, the snarled upper lip and the flared nostrils, you know you will be in for a long night.
Six minutes of action is expected in an ordinary match.
Not to worry, Linebarger never anticipates his matches will last that long.
He goes in for the kill.
Many years of frustration are exerted into every throw, grapple and hold.
Linebarger has this relentless pursuit of perfection coursing though his veins.
This journey has fueled his longing for his first trip to the 5A state wrestling tournament – And that elusive No. 1.
"I am still not the best guy out there, but I hope that I can show them and maybe I can place at regionals," Linebarger said. "I'm definitely looking forward to regionals, which will be an exciting new experience for me. I'm really hoping to advance to state."