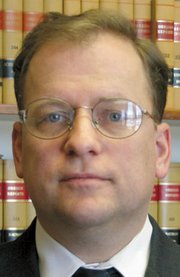 Eric Nisley and 23 other prosecutors from across the U.S. recently spent five busy days in Hoover, Ala., learning how to legally gather evidence from electronic devices for cyber-related crimes.
'Snowpocalypse' — not
Wasco County District Attorney Eric Nisley was attending a computer forensics conference in Hoover, Ala., while preparations were underway for a rare winter storm.
Although there was no snow on the ground Feb 12, he said media reports began referring to the coming tempest as a "snowpocalypse." He said there was a run on grocery stores for food — Little Debbie snack cakes were completely sold out in many locations — and businesses shut down in the afternoon.
"Everything began closing about 4 p.m. and they let us out of class early," he said. "It was very cute because nothing was happening at that time."
After all the hyperbole, Nisley said less than an inch of snow fell that evening and life was back to normal by the next day.
"There were a couple of prosecutors there from Alaska and they were really chuckling about it," he said.
Hoover is located about 10 miles south of Birmingham, the largest city in the state of Alabama.
The only expense to taxpayers for the Wasco County district attorney to take the course from Feb. 10-14, said Nisley, was the cost of his ride to the Portland International Airport. His tuition and lodging were covered by the Department of Homeland Security, one of the partners in the National Computer Forensics Institute.
The training facility was established in 2007 in cooperation with the U.S. Secret Service, Alabama District Attorney's Association, the state of Alabama and city of Hoover.
Nisley said the instruction was based on the Secret Service electronic crimes training model that involved in-class lessons and evening homework. He received instruction in network intrusion investigation and analyzing data that was recovered from phones and computers.
"It was pretty busy; I had about six hours of homework before I left and then had homework each night."
Not only did Nisley learn how to extract electronic evidence, he had to break down a computer and put it back together again to better understand how its systems operate.
In an age when people are heavily using social media sites and email for communication, he said it is imperative that investigators learn how to collect evidence of crimes from these sources.
"It is really no different than any other type of evidence, it's just in a different format," he said.
One of the lessons dealt with authenticating authorship of online letters and pictures by using content to identify the writer. Other training was given about the reluctance of many judges to allow electronic evidence into a courtroom because they are not familiar with this nontraditional format.
Nisley said continuing advancements in electronics, often used to aid in criminal activity, has necessitated a change in the way that law enforcement and judicial officials handle investigations.
"A remarkable amount of information is being put on people's cell phones and computers now so it is important that we look in these places because such evidence can prove guilt or innocence," he said.