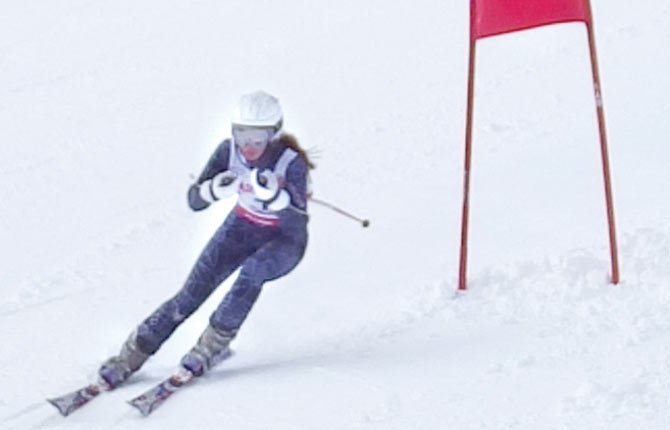 Maneuvering through the short Gemini Run can be a tricky ordeal for some skiers — a single mistake can offer costly consequences.
When the pressure is on The Dalles Wahtonka ski team knows how to handle any of the elements thrown in their direction.
Eli Holeman, Mark Johnson and the sister duo of Bailey and Carsen Cordell each chalked up top-10 outcomes to lead their respective teams to second place in a giant slalom skiing meet held on Gemini Run Saturday afternoon at Mount Hood Meadows.
"There was no room for mistakes, and our team handles the pressure very well," said TDW head coach Jeff Cordell. With an extra week of preparation time allowed due to weather conditions and a cancellation, coach Cordell said the group spent some time working on tucking and tuck turns in practice, and it paid off.
For the boys, Eli Holeman was back in top form for a second place finish, as he came through with runs of 26.12 and 26.55 seconds for his marker of 52.67, a shade of 1.54 ticks behind Hood River Valley's Austin Keillor (51.13).
Johnson, a senior, kept his current upswing going with scores of 28.37 and 28.48 to total out to 56.85 and sixth place in the rankings.
With Preston Klindt and Xavier Michel unable to make the trip, the Tribe had to put some extra emphasis on the young duo of Martin Carter and Griffin Martin to make solid runs.
Carter ended up 19th with a two-run rally of one minute and 5.67 seconds, while Martin slugged out shreds of 35.24 and 34.62 for a 1:09.86 and 23rd place out of the field of 29.
All in all, coach Cordell liked what he saw from the tandem, as they helped the Tribe to a team time of 2:55.19, just 15.33 behind Hood River Valley (2:39.86).
Grant (3:01.41) placed third and Sandy accumulated a 3:03.07 for fourth place on the team front, 23.21 behind the top spot.
"We were pleasantly surprised with Martin Carter's performance," the Eagle Indian coach said. "He had back-to-back fast runs and saved our team time and kept the boys in second place."
Led by the trio of Lucy McLean (52.65), Korey Cimock (53.33) and Kelli Clarke (55.78), the Hood River Valley girl's ski team once again staked claim to first place in the overall standings with a combined 2:41.76.
TDW had a first run of 1:35.53, but rebounded on the back end with a 1:33.14 to reel off a 3:08.67 for second place, 26.91 seconds behind the first place HRV squad.
St. Mary's Academy (3:09.24), Sandy (3:13.35), Grant (3:22.21) and Cleveland (3:22.97) rounded out the team scores.
Bailey Cordell executed her two runs to near perfection for fifth place, as she motored home in 29.68 and 29.18 to ring up a 58.86.
Carsen Cordell had just as much success on the slopes with her 31.74 and 30.88 for her 1:02.62 and ninth place in the standings.
Alyssa Carrico put in her best effort of the season with a personal-record of 1:07.19 to mark her spot in 16th place.
"Alyssa showed us some good form and the desire to go fast," coach Cordell said. "We got a good result from her and it helped the team time for a second place finish."
Robin Pashek (1:08.97) ended up 19th, Courtney Anderson added a 1:11.96 to card 20th place, and Emma Ell-Smith stayed with the rest of the pack with a 1:12.36 and 21st place.
Tribe newcomer Timarra Roth is jumping up the ranks and she added to those good feelings with a 1:16.69.
Susanna Talenti put forth a 4:19.79 in her two attempts.

"The rest of the girls also did well, placing in the middle of the pack," coach Cordell said. "Susanna was skiing so fast that a ski bounced off and led to huge crash. It shook her up a bit, but she hiked up and finished her run."
Next week, the Eagle Indian skiers have another giant slalom event, this time on Reynolds Run at Ski Bowl with action kicking off at 10 a.m.