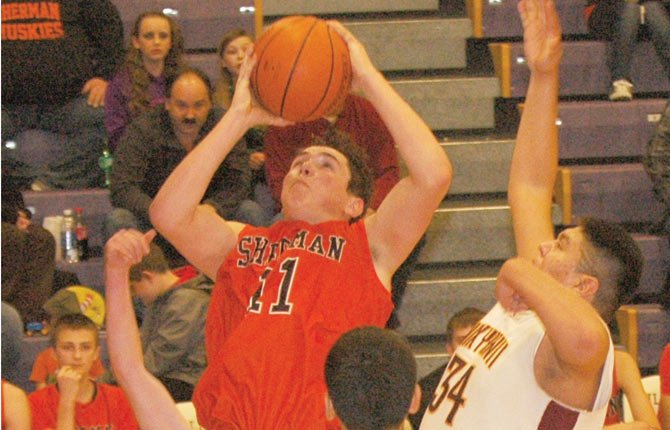 The Sherman Huskies were thrust into a meat grinder of a schedule in the final stretch of the season, winning five of their last six games to punch a Big Sky district playoff ticket.
That string of good fortune came to a bitter close Thursday, as the Huskies shot 12 of 52 for 23 percent and committed 16 turnovers in a 50-38 loss to Nixyaawii.
"I think we played good enough defense to give ourselves a chance, but we shot 20 percent and we never looked comfortable on the offensive end," said Sherman coach Bill Blevins. "That is on me. Obviously, I did not do a good enough job of getting them prepared against the 1-3-1 zone."
At one point in the first half, Nixyaawii built a 24-6 lead with four minutes and 14 seconds left in the second frame.
Thanks to nine points from Austin Kaseberg and a 3-pointer from Max Martin, the Huskies finished with a 12-4 run to make it 28-18 at halftime.
Twice in the third quarter, Sherman got to within a seven-point deficit, with a rebound and a putback by freshman Isaiah Coles making the score 36-29 with 2:26 in the third quarter.
However, the Golden Eagles capped the period on a 6-0 run to lead 42-29 after three quarters.
Nixyaawii was able to maintain its double-digit cushion in the fourth quarter, with Sherman using a 9-8 output to close the scoring.
Kaseberg ended up with 17 points and 13 rebounds, and Martin added nine points. Seniors Nick Coleman and Ben Holliday combined for five points and five rebounds.
With Blevins in his first year bringing a new philosophy, he credits the seniors for making the transition as seamless as possible.
"I don't think any team goes without senior leadership," Blevins said. "We kind of changed who we were and they bought in. Both Nick and Ben Holliday played tremendous shutdown defense and kept us in games. I will miss Cody (Jauken) and all of them. They were great teammates."
Holliday did not anticipate that this would be his final varsity hoops game as a Husky.
Of course, he realizes that he must pass the baton to the younger group that aspires to earn a berth to Baker City in the near future.
They have a core group of freshmen led by Martin, Coles, Kyle Fields, Maverick Winslow and Anthony Lloyd, who acquired extensive minutes throughout the winter campaign.
A few eighth graders like Treve Martin and Jacob Justesen will fill roles next season, adding to the core of Kaseberg, Wyatt Stutzman, Luke Lawrence and Tyler Hendricksen.
It will take everyone buying in to keep the winning legacy in tact.
"Being a family is the most important thing," Holliday said. "Players don't win games, teams do. I think if they play together as cohesive unit and work together, then they will be fine. They are freshmen and they stepped up huge this year. I am pretty sure in the next three years we will see them back in Baker, easily."