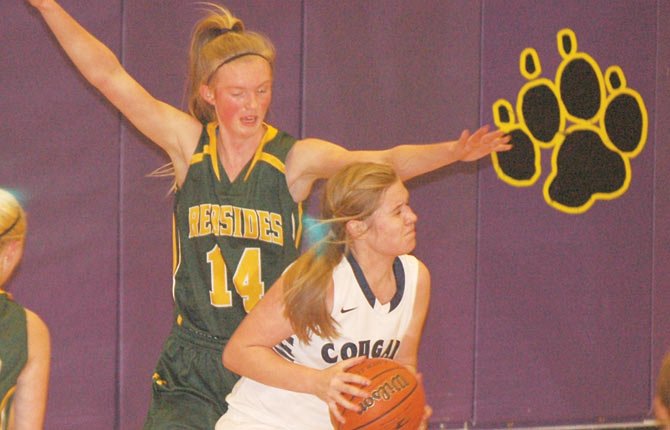 The Echo Cougars held South Wasco County without a field goal in the second quarter as part of a 15-0 run and cruised to a 39-15 win Thursday night in 1A district girl's basketball play in Hermiston.
The Redsides could not muster any offense in the post or from the perimeter in the game and were held to 6 of 28 from the floor with 40 turnovers.
After going down 19-4 at the break, South Wasco County climbed back to within a 22-10 deficit towards the end of the third frame, and had five consecutive chances to cut the lead lower, but miscues and missed shots hampered those comeback thoughts.
Molly Foreaker led the Redsides with five points, and the quartet of Ally Muhleman, Lisa McNamee, Joy Kelly and Zoe Morelli added two points each.
"We missed four lay-ins with nobody around us and we missed a couple of others from in close, baskets we should have made early in the game," said SWC coach Ron Townsend. "If we make those, it is a different ballgame all the way. The score may be lopsided, but that was the difference right there."
For Echo, Kylie King had 15 points and Kelsey Ranger added seven, as the team shot 13 of 39 from the field.
With the sting still prevalent from Thursday's loss, Townsend said he was proud to mold and shape his three cornerstone seniors, Kelly, Morelli and Sonya Schmitz, in his four years at the coaching helm.
"I think they have evolved by light years," the coach said.
"I think they have become great leaders, they do all of the little things on and off the court. It makes me proud to see kids grow as much as they have. I know they are going to be successful in life because of it."
Morelli aided in the development of younger players and there is a strong feeling that this team is going to grow rapidly.
She was proud of them for stepping up their game under duress.
"They need to learn about commitment and hard work. That is what it takes to be successful," Morelli said. "Commitment is probably the biggest thing. It is about being a positive part of a team and sacrificing and doing everything in your power to boost everyone else around you up."
Morelli has plenty of goals and aspirations set in front of her, as she gets closer to graduation.
Much of what she learned was on the volleyball and basketball court under the tutelage of Townsend.
"I have learned a lot from coach. He has taught me to go out there with everything," Morelli said. "I learned that whatever I do in life, whether it is work or school, whatever, to go out there with everything you have and to work as hard as you can and not let it get the best of you."