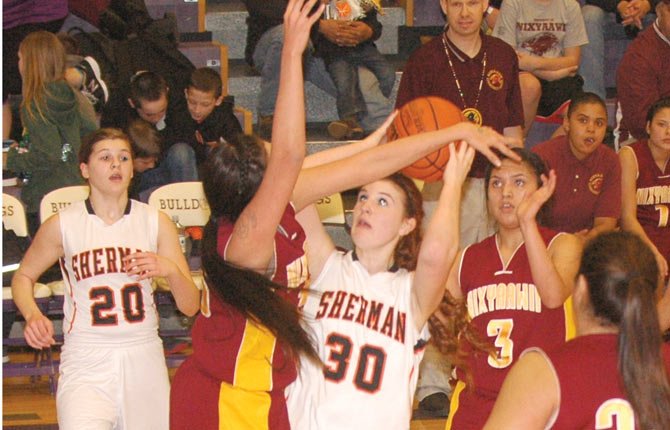 Facing a rebuilding task after losing five starters off his district playoff team last year, there was some uncertainty surrounding the Sherman girl's basketball team.
Although the Huskies' season ended with a 44-36 loss to Nixyaawii in a Big Sky Conference district girl's basketball contest Thursday, head coach Steve Kaseberg heaped nothing but high praise for his program.
"I told the kids that nobody gave them a chance to get to districts this year," coach Kaseberg said. "That is a compliment to the program and to my seniors. We won 14 games, we got the No. 2 seed on our side and it was a great bunch of kids to work with. We didn't have any all-stars out there, we just played good team ball."
In Thursday's game, the Huskies struggled with foul difficulties to Katie Poirier and Janet Guzman, and that enabled the Golden Eagles to break open a 17-16 halftime lead with spurts of 13-10 and 14-10 to get the win and advance to the next round.
The Huskies made good on 12 of 50 shots for 24 percent, and committed 24 turnovers.
Poirier was held to 11 points, eight rebounds and three steals in 18 minutes, and another senior, Andie Harrison, had 10 points and eight rebounds and three steals. Meagan McKinney picked up nine points and Guzman had two points and six boards for the Huskies, who held a 49-31 rebounding edge on Nixyaawii.
Charlotte Barkley led the Golden Eagles with 16 points and both Sunshine Fuentes and Desiree Maddern added 10 points each.
Kaseberg takes pride in knowing he is coaching a program that has earned a district playoff berth for the past 32 years.
There is continuity at the middle school and junior varsity level and the cupboard is far from empty.
Having Poirier, Harrison and Kali Busler leading by example got everyone on the same page.
"Those three are outstanding leaders as far as bringing the young kids out and helping them through adversity," Kaseberg said. "We wouldn't be here without our young kids and our bench. The young kids knew that they could not be afraid to fail because the veterans were going to be there to pick them up. That is what it takes to be successful."
Full of emotion after this last loss, Poirier smiled with pride knowing she wore a Sherman Husky uniform with pride for the past four seasons.
Another memorable reason for this year was the fact that she played along side her younger sister, Emily.
"It meant the world to me to be a Sherman Husky," Poirier said. "It has honestly been the best part of my high school career. I am going to miss it a lot."
While Poirier exits stage left, she wants her teammates to keep working hard in the off-season, whether it is on offense or defense.
If they stay on the right path, good things will come.
"My message to these girls is to play their heart out every game and have no regrets," she said. "They have to leave everything out on the court. I would tell them not to freak out at the little things, keep working together as a team and never give up because they can all go so far. I know I will be cheering for them."