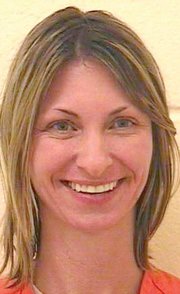 What began as a sales call to an elderly widower in The Dalles turned into a "friendship" that cost him thousands in cash and the expense of a new car.
Wasco County District Attorney Eric Nisley said the case involving a 78-year-old victim is a cautionary tale for the families and friends of senior citizens.
"Please keep an eye on their bank accounts and who they are associating with because these types of cases can be difficult to prosecute," he said.

He said the victim, who was grieving his late wife, received a telephone call in May 2013 from Julia Melanie Ecke, 37, of Keizer, who was selling campground memberships. They struck up a conversation that prompted her to visit his home several times, sometimes helping out with the cleaning.
Over the next few months, the man granted Ecke's requests for a vehicle and sent her several Western Union payments that totalled $21,000.
A point of irony, said Nisley, is that some of his money was used by Ecke to pay municipal court fines in Salem. She was on probation at the time for another aggravated identification theft conviction.
Eventually, the man's children noticed that his bank account was being depleted and reported the theft to law enforcement officials.
The Dalles Police Detective Jamie Carrico launched an investigation and Ecke was subsequently arrested and faced 39 separate charges if she went to trial. Instead, she chose to plead guilty Feb. 10 to one count of aggravated identity theft, three counts of first-degree identity theft and one count of identity theft.
She was sentenced to 90 months in prison for the type of crime that Nisley said is very complicated to unravel because the money is voluntarily surrendered by the victim.
"Unfortunately, these types of cases are becoming more common," he said.