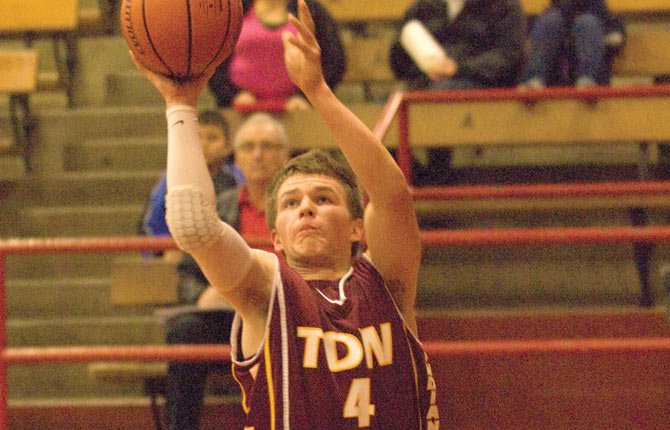 Down by one point with just eight seconds on the clock, The Dalles Wahtonka big man Coby Conlee had a chance to play hero.
It wasn't easy to say the least.
With a raucous Pendleton crowd yelling and screaming in an attempt to rattle the junior, Conlee coolly swished two free throws to silence the home faithful and give his team a one-point lead.
The Buckaroos had one final opportunity to complete their comeback and grab a win, but a potential game-winning jumper went awry, as the Eagle Indians shocked Pendleton 64-63 in Columbia River Conference boy's basketball action in Pendleton.
"I was really proud of the boys for competing the entire game, especially after giving up the lead at the end," said TDW head coach Bob Townsend. "Coby's free throws were huge in front of a very loud student section."
In what turned out to be a close battle for 32 minutes, the Eagle Indians inched ahead late in the game with an eight-point lead with two minutes left in regulation.
However, the Buckaroos cleared the cobwebs and managed a 9-0 rally on a pair of 3-pointers off four Tribe turnovers to lead 63-62 with eight seconds left.
With a chance to build on its lead, Pendleton missed a free throw attempt and Conlee was fouled on an over-the-back call, setting up his heroics.
Both teams battled to a 33-all standstill at the break, but the Eagle Indians came out firing in the third quarter using a 16-10 spurt to go out in front, 49-43 entering the fourth period.
What helped the Tribe cause was a perfect 10 for 10 split from the free throw line, coupled by some sound shooting from senior point guard Steven Bartells.
The defense also held strong in holding Pendleton to one of its lowest scoring quarters of the season.
Bartells finished with a game-high 23 points, and Conlee added 15 to the mix.
Clay Copper and Zach Nerdin chipped in with 11 points each, and Devin Wilson had two points.
For the Buckaroos (10-12 overall, 4-3 league), Donte Robinson paced the offense with 16 points in the books.
TDW (5-16, 3-4) hits the road to Hood River for a league tussle with the Eagles (0-21, 0-7) at 7 p.m. Tuesday.