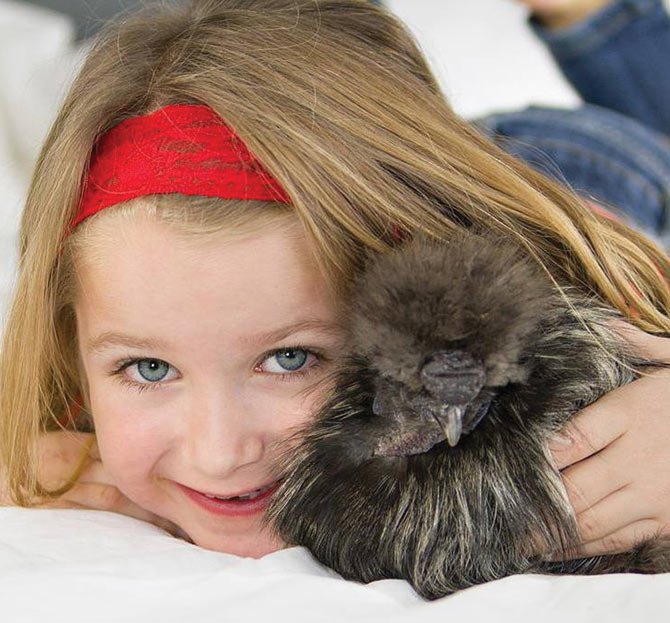 DUFUR — A big-eyed, cherub-cheeked 5-year-old, Ayla Macnab holds tightly to Dallas, her 2-year-old, charcoal-gray silkie rooster.
Except for Ayla's occasional whisper to her mother, Jill Macnab, the boon companions are silent during a Feb. 20 visit to their home near Dufur's city limits.
But the duo and their parents have created a big noise on social media sites the last few days, since the city sent the Macnabs an order to get rid of the rooster within 10 days. The order is the result of a codes enforcement complaint and subsequent investigation by Dufur's codes enforcement officer, said Mayor Arthur Smith.
Almost 10,000 people had signed a petition and more than 4,600 people had "liked" the Facebook page called "Saving Dallas the rooster" by the afternoon of Feb. 21. The Macnabs say they are amazed at the response, which has stretched around the world.
"I was just hoping we'd get 10 or 15 people to come to the city council meeting," she said. Some Dufur residents have supported them on Facebook and signed the petition, but the petition response as of Friday was more than 14 times the 600-some Dufur population.
The Macnabs contend that Dallas doesn't constitute a noise nuisance and their young daughter should be allowed to keep the companion she sometimes sneaks into her bedroom to feed grain.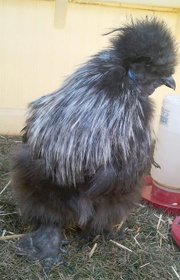 "Silkies are one of the tamest birds and they're a great size for a little kid," said Jill Macnab.
Ayla purchased the bird with her own money earned from chores, a toy sale and a lemonade stand. She hopes to show Dallas and his mate, Della, as a breeding pair at the Wasco County Fair this year as part of the Dufur Divas and Dudes 4-H Cloverbuds group. She's even willing to hand over her savings for a trip to Disneyland for her birthday next month, about $186, if it will mean the Dufur City Council will let her keep her feathered companion.
While early morning crowing is the typical reason roosters are considered a nuisance, Bryce Macnab, Ayla's father, says Dallas rarely crows.
"If he does crow, it's usually in the mid-morning," he said, and as a protective warning to protect his hen flock.
The Macnabs have dealt with the City of Dufur before over a crowing rooster, Zeus, which they freely admit was a problem crower and which they got rid of after a complaint in August 2013. They had checked the city ordinances online, but the online version isn't up to date and includes only a reference to animals causing "objectionable noise." The law was updated in August 2012 to specifically exclude "roosters and other loud fowl."
The Macnabs got rid of Zeus, which was purchased after the law went into effect. But Dallas was purchased before the new rules and the Macnabs say a city official told them he could be grandfathered in under the law. However, as a result of the latest complaint, the Macnabs have learned that the nuisance law contains no grandfather clause.
Reba Lloyd filed the original 2013 complaint. After her husband heard a rooster crowing from the Macnab house while outside for a constitutional, she thought the problem rooster was back and filed a second complaint.
"But it didn't sound the same. He said it sounded kind of muffled, like they were keeping it in a coop," Lloyd said.
While she says her husband only hears the bird while outside right now, "come spring, when my bedroom windows are open, the sound carries."
Lloyd has nothing against chickens, in fact she says she hopes to have some of her own someday, as she did when she was a child. But she feels roosters don't belong in towns.
"I think if you want a rooster, you need to live outside the city limits," she said. "That's my feeling."
The Lloyds live a long block away. Neighbors closer to the Macnabs say the bird hasn't been an issue with them.
"I like 'em," said Carol Gardner. "They're not a bother."
Jennifer Helman, who stays with Gardner several nights a week, says the bird hasn't caused a disturbance, even though she is a light sleeper. Neither woman says they've heard the bird
Hundreds of emails have arrived at Dufur City Hall in response to the social media campaign. Mayor Smith, who says he doesn't pay attention to social media sites, has received multiple calls from Dallas supporters — so many, in fact, that he has had to make up time on his day job for handling his mayoral duties.
From a city administration standpoint, Smith says the emails, calls, petition signatures and Facebook likes and comments don't have much bearing.
He takes more seriously the fact that a Dufur resident has taken the time to write and sign a formal complaint of a noise nuisance.
"This is not something we've pulled out of our hats because we're wanting to hurt a 5-year-old," he said.
Smith is sympathetic with the barnyard in the backyard concept. His family keeps 12 chickens and has children in 4-H, but every time a rooster emerges from a batch of chicks (it can be difficult to determine the young birds' sex), he gets rid of it.
"Because I respect my neighbors, I want to be a good citizen," Smith said.
This isn't the first time Dufur has had complaints about roosters. In fact, multiple complaints were the reason they were specifically added to the nuisance law.
Under the law, the Macnabs have a right to appeal the order before a hearings officer. Smith will serve as that officer at an appeal hearing he has set for Tuesday, Feb. 25, at Dufur City Hall. If the family is not satisfied with Smith's ruling in the case, they can appeal the issue further to the Dufur City Council, which next meets on March 10.
"I would love to ask all the parties involved questions," he said. "I would like to come to some kind of compromise at a low level. That's part of the reason I enjoy being the mayor of the City of Dufur. It's a small town. We can leave our doors unlocked. It's a good town to live in."