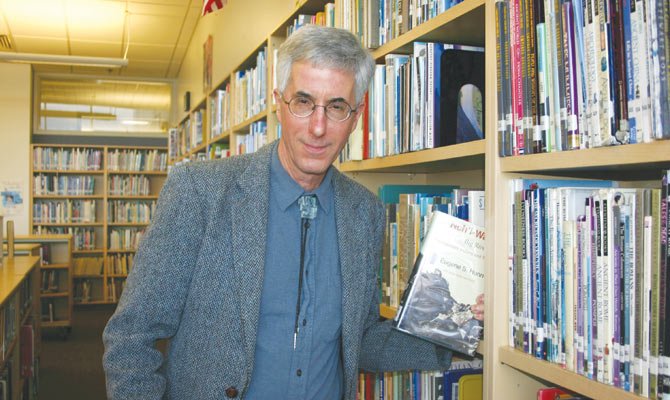 Tindall featured at NW English teachers event
Jim Tindall will be among presenters from more than 30 states and Canadian provinces at the NW Regional Conference of the National Council of Teachers of English March 1 and 2 in Portland.
"With the ascendance of the CCSS [Common Core State Standards], it is important we listen to educators like him who understand how to lead students to thoughtful, meaningful research," said Peter Thacker, education professor at the University of Portland.
"I'll be speaking on the research process and the Common Core State Standards — and how school librarians and language arts teachers are perfect allies to strengthen a student's information seeking skills."
"Education is more and more about making connections across texts and disciplines," Thacker said. "Mr. Tindall is in the vanguard, modeling for all educators how best to make this happen."
The conference also has strands from librarians, the Writers Project, social studies, Rethinking Schools and the centenary of William Stafford.
Registration is still open online.
Most of us would probably say we've gone several different directions in life. In the never-ending process of figuring out how we ultimately wish to spend the short amount of time we have, we've all tried on different hats to see which suits us best.
Jim Tindall, North Wasco County School District Librarian since 2002, however, seems to have tried on at least one hundred.
From teaching English, to radio hosting, to firefighting, to living and working in Germany, to running a bed-and-breakfast out of his own home, to writing and playing music in his almost nonexistent free time, Tindall seems to have accumulated enough life experience to comfortably stretch between several individuals, let alone himself.
"I like to flit," he said, in reference to his varied interests and the way his current position seems to compliment that preference. "I have a lot of things going on at once and I always seem to be split six different ways — but it suits me."
As district librarian, Tindall is responsible for overseeing the maintenance, organization, and coordination of all the school district's libraries. However, The Dalles Middle School, he says, serves as his home base.
"It's where I do most of my work, even though I definitely have a sense of each building's unique culture. It's about making sure they all fit together and work in a way that benefits the needs of the students. In libraries, partnerships are crucial to community learning. It's that type of outreach I always find exciting."
It should be noted that this is coming from a guy who shows up dressed as a prehistoric raptor for Halloween festivities at the Middle School and as Meriwether Lewis for educational Living History presentations. He even occasionally performs in a band composed entirely of North Wasco County School District employees dubbed "Staff Infection."
"Honestly, the reason I like working with kids so much is because I'm basically a middle schooler myself," he grinned. "My character, my zany irreverence, my 'scatteredness'—it's just who I am."
Tindall says he's played and sang in several different bands over the years and that both writing and music have remained life-long passions of his, as is illustrated in his ever-growing collection of books and musical instruments.
In connection with his former position as a live talk show host for Alaska Public Radio's KFSK station, Tindall says he and a colleague were able to write and produce their own plays and old-fashioned radio mysteries and broadcast them across the air waves.
"It was a fantastic creative outlet for me at the time. As a writer, you've just got to approach it for the love of it. It's just a conversation. Heck, if you know how to talk, you probably know how to write."
Now Tindall says he's getting back in touch with his old radio persona as a producer for the live TV broadcast of TDMS News.
"Even though it's scripted, there's still so much room to be completely spontaneous on set. People will often walk in on me right when I'm in the middle of things as a practical joke. In written media, you can redraft and revise to your satisfaction, and it just doesn't have that same element of improvisation. In television, the reality is what the viewer is able to see, so you can be really creative in how you design that reality."
Back when he was working as an English teacher in the mid to late 1970's, Tindall said he didn't have nearly as much freedom or variety in his work day to allow for such creative projects.
"The tough part about teaching is that at a certain point in the day, you look around and say, 'Wow, it's two o'clock and I'm supposed to somehow still be interested in grammar? Okay, well here we go. Let's get on with it,'" he said, throwing up his hands.
"Working in libraries and throughout the district as I do, I'm a lot less constrained by that type of formula. By nature, I deal with kids as individuals. Classroom teachers have the colossal challenge of having to deal with 35 different personalities all at once. I don't have to do that. Generally, the patron comes to you individually, in search of that perfect book, and I get the joy of sometimes being able to pull out that perfect book for them. If I'm successful there, then maybe I'll see that kid walk through the door again later. That's the goal, anyway."
His job as librarian has a lot of diversity, he said.
"My work spans across five different buildings and the unfortunate part of it is I tend to be invisible when I'm not there. However, I really do enjoy the variety it affords me. I've consistently loved it and it's continued to challenge me. I'm incredibly fortunate to have such talented and knowledgeable media assistants who act as the real 'faces' of the libraries. They're able to bring a unique spirit and personality to each place, which is something I think is incredibly valuable."
A self-professed devotee to the written word, Tindall says he's been publishing his own writing since he was in high school.
"I've made very little money as a writer, but I've always had at least a small audience to share my work with," he said. "I write poetry, and creative writing has definitely been a part of my life for a long time."
Tindall says he's currently at work putting together a poem proposal that will celebrate both the natural beauty of the Rocky Mountain National Park in Colorado as well as the wealth of "human history" behind it.
"I'd really like to see that turn into something great," he said. "Writing is like fishing though, so potential opportunities often get away. Sometimes the kid doesn't take the book you really wanted them to or the publisher decides they really don't want what you have to offer, but what it all comes down to is that you can always try again."
Tindall cites both Winston Churchill and Teddy Roosevelt as huge sources of inspiration for him to continue pursuing his passions.
"They're my two bulldogs," he laughed. "Their philosophies apply to both my personal and professional lives, and what they've taught me is that the real trick is to never, ever give up. In my life both inside and outside of school, it would be so easy after receiving an insult or rejection to just walk away … but both leaders give me lots of inspiration to turn the other cheek, move on and get back in the ring the next day."
Other projects currently on his plate include his role as coordinator for Oregon Battle of the Books, for which The Dalles Wahtonka High School will be hosting a regional tournament on March 15. In the meantime, Tindall will also continue to develop plans for April's celebration of National Poetry Month alongside his fellow community members, saying he hopes that together they will be able to figure out new ways in which they can make it a "month of unique and creative celebrations."