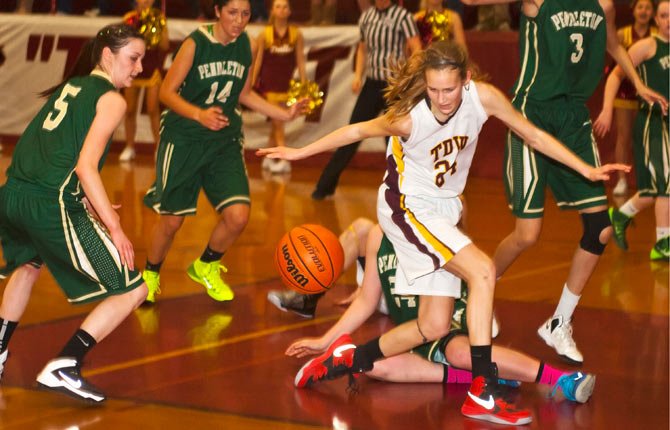 From beginning to end, the Pendleton Buckaroos held an edge on The Dalles Wahtonka.
That is until Tribe senior Emily Bailey hit a game-tying 3-pointer at the buzzer to lead her team back from a 10-point second-half deficit and send the game to overtime.
But, Reeghan Lehnert hit a field goal, Darian Lindsey swished 3 of 4 free throws and the Lady Buckaroos forged a last-second defensive stand to hold off TDW for a 60-57 upset win Friday in Columbia River Conference girl's basketball play in The Dalles.
"The most important thing after that game is to learn from our mistakes and not just mistakes at the end, but throughout the whole game," said Bailey. "We cannot settle for trying to come back. We need to come out from the beginning and play with aggressiveness. I think it is a good learning experience, I mean unfortunately we lost, but I think this will be good for the younger girls."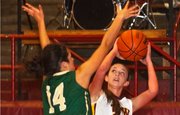 Lindsey sank two free throws to start the extra session, but then Brooke McCall answered with a layup on an inbounds pass from Kailin Hoylman to tie the score at 57 with two minutes and 29 seconds left in the extra session.
That was the last time the Tribe would find a score, as they missed their final five shots, committed two turnovers and clanged a front-end free throw down the stretch.
After a Tribe turnover with 30 seconds left, Lindsey was sent to the line for two shots.
The guard missed the first shot, but drilled her second attempt to give the Bucks a three-point lead with 25 seconds remaining.
On its ensuing possession, TDW misfired on two 3-pointers, and on the second miss, an offensive rebound tap went towards midcourt as time expired.
"We had to battle all night long and it takes a lot of you over the long haul," said TDW coach Craig Compton. "All of the girls battled and did the best that they could. I don't fault any of them for their effort. Their effort was outstanding. We just didn't get the job done."
Pendleton had its shooting stroke working in the first quarter with a nine-point effort by Marlene Bodmer pushing her team to a 21-14 lead.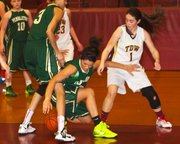 At one point in the second quarter, Pendleton led 29-16, but two hoops by Bailey and a trifecta from Hoylman inched the Tribe to within 29-23 at the break.
A jumper by Pendleton's Kristin Williams with 2:29 remaining in the third frame made the score 37-27, but in the final 49 seconds, Telles canned a long ball, Williams hit a jumper, TDW's Morgan Goslin hit an acrobatic layup and Williams rattled home a bank shot to give Pendleton its 42-34 lead through three quarters.
In the final frame, TDW climbed to within a one-possession on eight occasions, but could never regain the lead.
Playing without 6-foot-2 inch junior Olivia Starks, the Tribe had trouble covering the Buckaroo posts.
The trio of Charmayne Robinson, Kiana Sperl and Williams combined for 23 points. Pendleton also had a 41-28 rebounding edge, with Sperl leading all players with 14.
"They moved the ball pretty well and found the weaknesses in the some of the post areas," McCall said. "We did not move our feet as well as we should have and they took advantage of that."
Telles, who hit four three-pointers, three in the fourth quarter, led the Tribe with 17 points.
Bailey finished with 16 points, eight rebounds, seven assists, six blocks and three steals.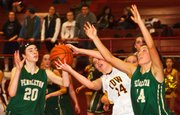 Katie Conklin had nine points and seven rebounds, McCall added eight points, five rebounds and two steals, and Lori Cimmiyotti tallied two points, five rebounds, four assists and two steals.
With back-to-back losses, Bailey said that the best thing the team can do is have the mindset, composure, control and confidence during the game to know they can finish strong in these final two regular season games.
Hoylman emphasized the point, saying the team may have been behind for the duration, but they kept fighting and working diligently for 36 minutes.
"We need to keep working and not get our heads down by the loss," she said. "It was a tough loss, but we 've just got to get over it and keep playing hard. Everyone here has a positive attitude on and off the court. We know we are a better team than this. We lost this game, but this will bring us together as one."
Up next, TDW (17-4 overall, 4-3 league) goes to Hood River (4-16, 0-7) for a 5 p.m. league game on Tuesday.