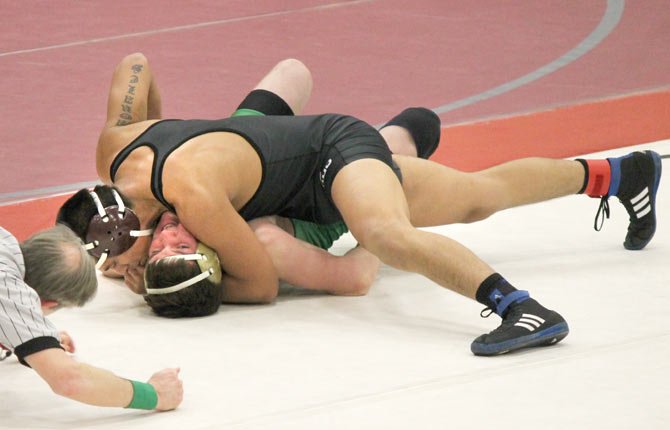 Through one day of action at Marshall High School, The Dalles Wahtonka wrestling team has two in the championship bracket and four others still alive in the consolation rounds at the OSAA Special District 2 Regional Meet in Portland.
Senior Eric Morales and sophomore Joe Linebarger once again led the Eagle Indians on Day 1, with the duo combining for three wins.

Morales, wrestling at 170 pounds, dominated the day by pinning both of his first-round foe, Jefferson's Elijah Pichon, and quarterfinal opponent, Pendleton's Terrel Platt, to advance to the semifinals.

After an opening round bye, Linebarger (195 pounds) took an early lead with an initial takedown of Cleveland's Joell McCool and dominated the match from start to finish for a 7-0 triumph.

It is still a long way away, but Linebarger appears to be on the right path thus far.
"If I can outwork anyone in a match, that is always a good thing," Linebarger said. "It is all about placing. If you beat a guy, then you are ahead of them at districts. I am really hoping to get up there and have some good matches so I can place and go to state."
Luis Herrera (138) overcame a tough first-round loss and injury to pin his next two opponents, Cleveland's Caleb Moyer and Franklin's Peter Nelson, and keep his drive alive.

Damion Morris (145) had a bye and then lost 14-3 to Hermiston's William Kidder in his next match to fall into the consolation bracket.
Morris is still in action after scoring a 13-2 major decision over Hood River Valley's Jorge Ortega.
Just like Herrera and Morris, Mitchell Waters (145) is scratching and clawing to keep his season going in the consolation bracket.
Waters lost in his opener, but tacked on a pinfall win over Roosevelt's Jose Govea and another pin on Benson's Halin Weaverli.
Rounding out the Tribe participants vying for state berths in the consolation side is Sam Tyler, who is grappling at 113 pounds.
Once done with his opening round bye, Tyler suffered a pin loss to Jefferson's Hiag Brown, but then bounced back for a pinfall victory over Pendleton's Isaiah Bell.
Cole Davis, Mason Bansch and Colton Lee all had tough early rounds and lost their first matches.

Davis and Lee went on to lose their second showdowns and had their 2014 campaigns end.

Bansch, a senior, picked up a win by pin over Franklin's River Reichhoff after his first-round loss. After a hard-fought match with Cleveland High School's Brandon Gastelum-Plata, he ended up falling short by a score of 9-4 to end his final wrestling match of the year.
TDW currently sits at eighth place in the team standings with 41 points.
State powerhouse Hermiston is leading the way with 194 points.
Hood River Valley stands in second place at 154.

Action continued Saturday in Portland.