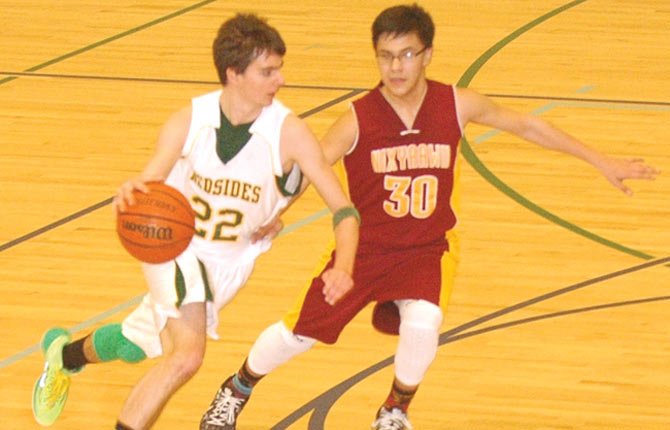 It is rare that a team gets snake bitten two years in a row on last-second plays that ended a season.
South Wasco County had a buzzer-beating three-pointer in Molalla short-circuit Baker City hopes in 2013, and Saturday, a late turnover all but handed a state sub-round berth to Nixyaawii in Saturday's consolation Big Sky basketball game at Armand Larive Gym in Hermiston.
Down 58-54 with 21 seconds left in regulation, Redside senior David Ocacio drained a 3-pointer to draw his squad to within a 58-57 score with time running down.
Nixyaawii tried to get the ball up the floor to set up a foul or run down time, but Ocacio made a steal and coasted to the hoop, but was fouled with 6.3 seconds left on the clock.
With a play set up under their own basket, the Redsides had some miscommunication lead to an errant pass back to the other side of the court on Nixyaawii's end.
After retrieving the loose ball, another airmailed pass ended up in the hands of the Golden Eagles and a foul was called.
On the ensuing inbounds, Nixyaawii point guard Hunter Melton grabbed the ball and sped up the floor as time expired.
"It was not the way we wanted the game to go, but luckily we got the win," Melton said.
It is especially heartbreaking for South Wasco County, which led 25-16 at one point in the first quarter, was ahead 50-48 with 5:17 left in regulation on a free throw by Ocacio and tied the score at 52 with 3:27 remaining using a layup from Loreto Morelli.
Both teams fought tooth and nail for the final eight minutes, as there were three ties and six lead changes, but Nixyaawii held serve from the 3:10 mark on.
"I think it is disappointment more than anything because we didn't play at the level we knew we could," said senior forward Nathan Duling.
Ocacio led all scorers with 15 points, and he added eight rebounds, four assists and five steals to his line.
Travis Hayes and Morelli notched 14 points apiece, and Duling was good for 12 points, eight boards and three assists in 30 minutes of play.
For the game, SWC shot 22 of 62 for 35 percent.
"It was a back-and-forth game," Ocacio said. "Anybody could have won. They made the plays they needed. Give them credit for that."
For Ocacio, Duling and fellow senior Tucker Nannini, it is a bittersweet ordeal knowing that this is the final time they will don the green and white.
Following two seasons of non-district playoff berths, the trio played pivotal roles in forging a combined record of 35-19 overall and 15-7 league play for the past two campaigns.
They also chalked up a berth into the district title game in 2013 and secured the Big Sky No. 2 seed this past season, staying within the top-15 in rankings all year.
"I look back and feel that we did a lot of great things," Duling said. "We did a lot more after our first two years of not even making it to districts. We really stepped it up from there. We worked hard and did a lot. So, we set a good example for these younger kids to continue and keep making steps up from where we got."
Ocacio, a senior with a near 4.0 grade point average, will head to college with aspirations of diagnostic imaging as his major of choice.
From his entire experience on and off the court, he takes fond memories and life lessons with him as he ventures through life as an adult.
"You got to have the will to achieve your goals because athletics really showed me that I have to work hard for everything I get," Ocacio said. "I also learned how to enjoy what is going on now instead of looking too far ahead to the future because it all goes by so fast. I will miss it."
As is the case with senior athletes, there is a special bond between player and coach that spans beyond the playbook.
It is about family and togetherness.
"These seniors have been rocks for us. That is the best thing to say," said SWC head coach Jim Hull. "They are great students, they are leaders on the court and off and they do a great job of setting an example. They are right up there with all of the great ones that I have had in terms of coachability, willingness to sacrifice for the team and willingness to put in that extra time to be the best players they could be. I can't say enough. It is always disappointing to lose such a high level of player and person."
Now the focus is on the future and the Redside cupboard is not bare.
The three spots vacated will open up opportunities for Brody Myers, Ellis Rager, Ty Herlocker, Devan Dammann, Colton Nannini, Hayes and Morelli.
Duling said that the biggest thing is for that group to focus on the little things, get their intensity up, start working harder and set a goal and achieve it.
Hull agrees with that sentiment wholeheartedly.
"They set the bar for the next group of juniors and sophomores and some of the freshmen I have with me," the coach said. "This (districts) now shouldn't be a goal, it should be a destination. Your goals need to be higher because you need to come out with the mentality of this is just the start of that destination. This is where you start."