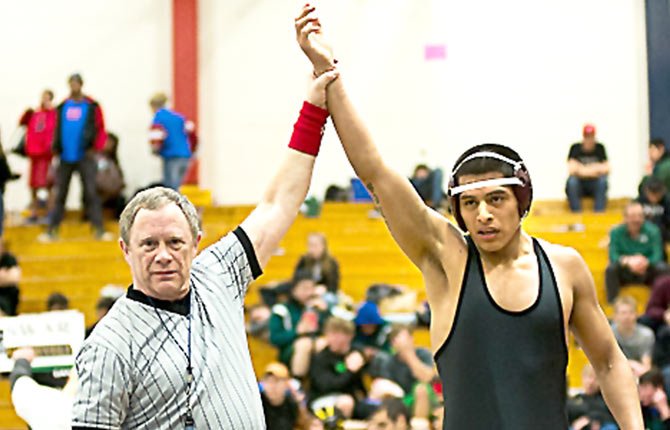 Eric Morales, Joe Linebarger and Mitchell Waters still have a week to go in their wrestling season.
The Dalles Wahtonka trio finished in the top-4 of their respective weight classes and secured a trip to Memorial Colliseum this weekend for the 5A OSAA state wrestling tournament starting Friday in Portland.
In all, the Eagle Indians dressed down nine wrestlers at this weekend's regional tournament at Marshall High School and had six place in the 16-man brackets.
Morales (170 pounds), a senior, notched third place to qualify for the second consecutive season.
His practice partner, Linebarger (195) grabbed third place as well to punch his state ticket in just his sophomore season.
Another sophomore underclassman, Waters (145), had a dream run with four consecutive consolation wins to pick up fourth-place recognition.
Morales (27-10) picked up back-to-back pins on Day 1 to earn a spot in the semifinals, but he ended up losing a tough 4-3 decision to Hermiston's Jesse Rodelo to vault into the consolation side.
If he lost, the season was over for Morales, but he responded with a 4-3 decision over Franklin's DeAnthony Hartley.
In his third place match, Morales capped his tournament with a first-round pinfall win over Roosevelt's Chancellor Swar.
Linebarger (28-8) cruised to the semifinals after a bye and a 7-0 quarterfinal decision to face Benson's Bobby Caudillo.
The Benson product wound up serving a first-round pin to put the Tribe sophomore into the consolation rounds.
Linebarger dropped Pendleton's Marcus Taylor with a 5-1 decision to punch his state ticket, and then he motored past Hood River Valley's Max Lane by a 4-1 decision to clinch third place.
Waters took the long route to state, but a memorable one at that.
The sophomore lost his opening round match, but started checking off names in consolation action, starting with a second-round pin of Roosevelt's Jose Govea.
Up next, Waters needed little time to dispatch Benson's Halin Weaverli, serving up a pin at the 21-second mark of the opening frame.
He then picked up a 6-2 decision on Hermiston's Will Sharkey and secured his state slot with a first-round pin over Hermiston's William Kidder at 46 seconds of the opening period.
With a chance to improve his standing, Waters went to work again with Hood River's Chas Peterson, and the Eagle won by pin at 3:30 of the second round.
Aside from the trio, Damion Morris nearly fought his way to state with two straight consolations wins, one by major decision and the other by first-round pin, but he lost to Peterson by a 17-2 technical fall in the second round.
In his fifth place match, Morris blasted Kidder in 18 seconds for a pin to end his season on a high note.
Action starts at 3 p.m. Friday.