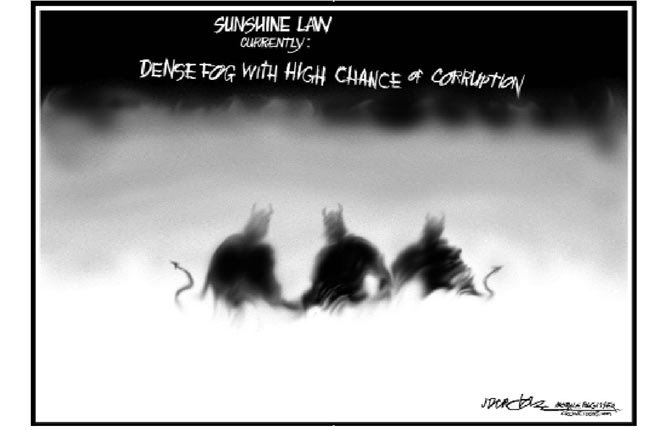 "Every person has a right to inspect any public record of a public body in this state, except as otherwise expressly provided..."
— Oregon Public Records Law
Information is the currency of our era — and quite valuable currency it is today.
Just take a look at the $19 billion deal Facebook made recently to purchase WhatsApp. Facebook spent almost 13 times its own entire net 2013 income to buy a start-up with 55 employees and barely $300 million in revenues. Why? Because it had a better way of handling information in message form.
Here's another example: Have you ever wondered why you suddenly start getting brand coupons for baby formula, fitness equipment or miracle facial cleanser even though you haven't bought any of those things? Chances are you bought something in that general category of products and used a store loyalty card. There's a better than good chance the store sold your information to a marketer who used that information to pitch related products.
But public information on what your state government does and doesn't do becomes a more scarce and valuable commodity every time the Oregon Legislature meets.
The 2014 legislature, for example, has proposed two more exemptions that would join more than 400 that already exist in Oregon's public records law, up from 55 when the law was first adopted in 1973 in the midst of the Watergate scandal.
The latest two, which have advanced through the legislative process without any opposition, include one that blocks access to information from electronic fare cards that Portland's transit agency plans to adopt. It's understandable that the state might want to protect private information that could be used in the commission of identity theft.
The question left to ask is why does the transit authority need that information in the first place? If the public shouldn't have a right to know, then why should the government have a right to that individual information for something as mundane as mass transit use?
Shouldn't we be questioning the government's right to have this information, instead of concealing the fact that they do?
The second bill is aimed at increasing participation in measures related to conservation of sage grouse, a threatened bird. The efforts are aimed at avoiding an endangered species listing of the bird. Listing under the Endangered Species Act would trigger strict conservation measures that could damage the Eastern Oregon economy.
But ranchers worry that animal rights groups and competitors could get their hands on personal and business information.
The problem with adding more and more exemptions to the list is that they have a cumulative effect of concealing information from the people who have a right to know: the public in whose name the government acts.
The government collects information and enters into contractual agreements on behalf of the people. Oregon's sunshine laws are designed to protect the rights of citizens to know what the government is doing in their name.
They protect citizen rights to sit in the meetings and see the paper trails to assure for themselves that government is acting in an above-board manner.
Like players in a high-stakes poker game, we want to be able to see for ourselves that the dealer isn't drawing from the bottom of the deck.