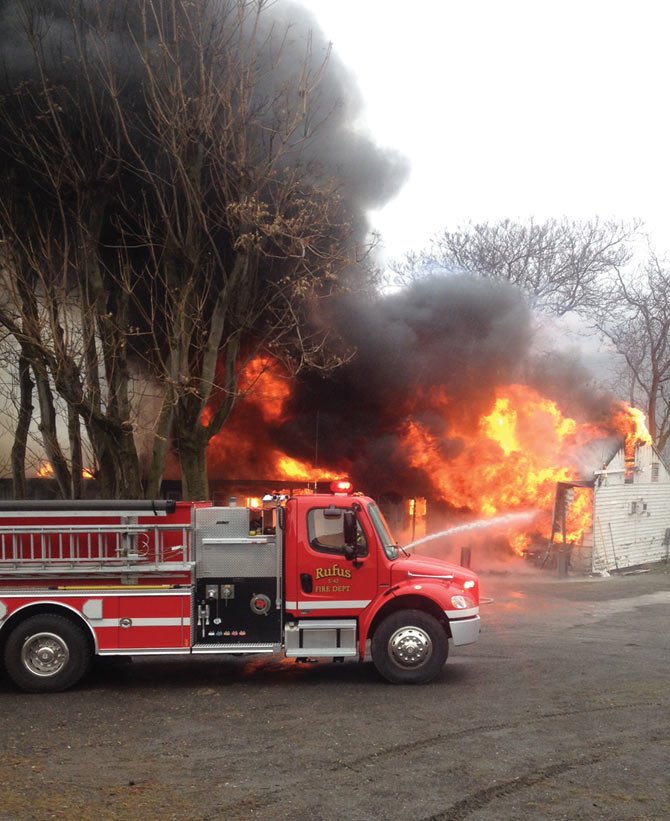 Fire destroyed a five-unit former motel at the far west end of Biggs Junction yesterday morning, but all four residents escaped safely, and law officers helped them remove their belongings.
The former motel was relocated from the original shores of the Columbia before the area was flooded by dams, said Chief Rob Asher of the North Sherman County Fire District. It was reported to have smoke coming from its attic at around 10:30 a.m. Monday, Feb. 24. Crews responded from all fire districts in Sherman County, plus a unit from Arlington and one from Mid-Columbia Fire & Rescue. When fire crews arrived, open flame was coming from one end of the attic and smoke from the other.
Sherman County Sheriff's Sgt. Geremy Shull and Oregon State Police troopers were first on scene and helped residents evacuate and also helped move their stuff.
"There was just smoke coming out of each end at that point and the property owner was doing what he could with a garden hose," Shull said. "Myself and a couple troopers showed up pretty quickly and we got a lot of stuff moved out from the people that were living there, so they didn't lose a whole lot of their stuff."
Asher said the building itself was "a complete loss. Even the floor boards are burned. Everything's gone." A deputy state fire marshal from Bend was due to arrive at the scene this morning to investigate the cause of the fire, Asher said.
He suspects the fire may be electrical in origin. When fire crews arrived, "The circuit breakers were flipping. That points to it possibly being electrical and where the wires are running is up in the attic, most likely," he said.
Crews were on scene until about 6 p.m.
The county averages about one structure fire per year, Asher said.
Asher heard the displaced residents were taken in at another local motel in Biggs.
While the breeze was only slight and didn't affect the fire, fire crews were hampered by a lack of water, Asher said, and fire rigs had to make repeated trips to Rufus, seven miles away, to get more water.
"We had three tenders that each carry roughly 3,500 gallons of water and they each made four to five trips."