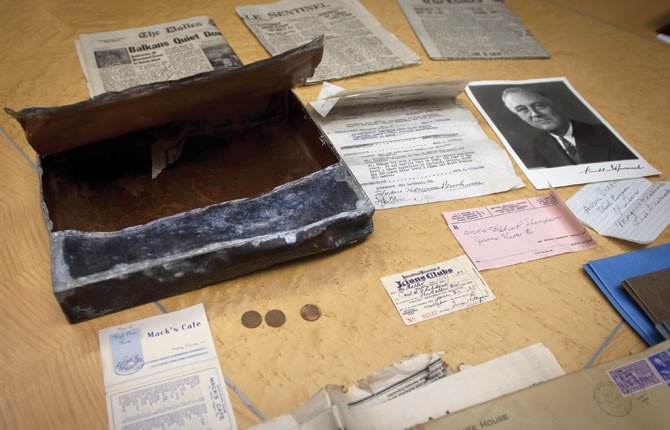 As the final basalt block was removed from the Lewis and Clark Memorial base at Thompson park a small copper box was revealed beneath.
"I had heard that there might be something there," said Executive Director Scott Green, of Northern Wasco County Parks and Recreation District. But as they prepared to remove the last block nothing had been found.
Then local archaeologist Eric Gleason arrived, bearing a newspaper clipping describing a sort of "time capsule" placed as construction of the monument began. (The monument was never finished.)
It was under the last stone to be removed as crews dismantled the sandstone and basalt base, and was placed there July 3, 1941.
The sealed copper box is several inches thick and just wide and long enough to contain several thin 8½-by-11-inch binders describing the project and the history of Lewis and Clark in The Dalles area.
Other items sealed into the box included, among other things, three copper 'wheat leaf' pennies from the '30s, a signed portrait of President Franklin D. Roosevelt, signatures from descendants of the Lewis and Clark expedition, a small photograph of the new Chamber of Commerce building and copies of three local papers, The Dalles Chronicle, The Dalles Optimist and the Goldendale Sentinel.
At the time the box was placed under the stone, the land belonged to the City of The Dalles, and the board moved unanimously to approach the city about partnering with Columbia Gorge Discovery Center and Wasco County Historical Museum for preservation and display of the items.
The sandstone removed from the foundation may be stored by the city and used to repair historic homes in the city that incorporate sandstone, Green added.
"They are looking for a covered storage area," he said.
The basalt will be used by the district, hopefully incorporated into building the new pool, Green added.