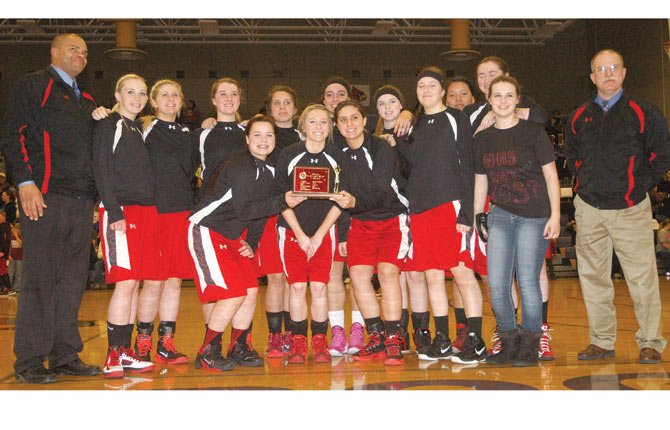 Moments after the sting of a 55-25 loss to No. 1-ranked and undefeated Condon-Wheeler at this weekend's Big Sky district tournament, Dufur senior Teneille McDonald appeared ready to move on and forward to the bigger task at hand – the state playoffs and the possibility of making reservations for a trip to Baker City.
She realized that her team did not have all cylinders working, but that there was plenty of time to fix some elements to get the team back on track for tonight's state sub-round home playoff game versus Cove.
"I think our team is pretty good about having short-term memory, so we will see how that works out," said McDonald, who had five points and three rebounds against the Knights Saturday. "I think we can come our firing as long as nobody thinks about this game and we just think about each game as a new start. We go into every game thinking that we are 0-0. We are in it and we will be ready to go."
The Knights shot 60 percent in the opening half and used outputs of 18-8 and 12-0 to lead 30-8 at halftime.
While the Dufur offense improved dramatically in the third quarter with 10 points, as one free throw by McDonald made the score 42-16 with two minutes and 46 seconds left in the third frame, the Knights finished the quarter on an 8-2 run to move in front 50-18 entering the final period.
Ellie Logan led all scorers with 20 points, nine rebounds and six steals.
Matney Jamieson netted 13 points and nine boards, and Deana Harris added 12 for the Knights, who had six players hit field goals on 22 of 50 from the field.
This marked the second straight season Condon-Wheeler (26-0 overall) has captured the district crown and long-time head coach and two-time Big Sky Coach of the Year, Theresa Humphrey, credited a fast start to leading to this lopsided triumph.
"They have been playing this way all year. It was just another game for them," Humphrey said. "They are on a mission. We hope that we can get to the state tournament (in Baker City) to show what we can do because it is a special group and I am proud of each and every one of them."
The Rangers had only four players score points on 10 of 45 shooting.
Alexa Macias and Taylor Darden tallied eight points each, and after McDonald, Tianna Ellis scored four points in 15 minutes.
Dufur committed 22 turnovers in the contest and they were outrebounded by a 49-20 margin.
"I think we get so wrapped up in what the other team is doing instead of focusing more on what we need to do offensively," McDonald added. "If we just start shooting the ball better, it can open more things up for us in the post and other areas of the court. We have to play fearless. We need to remember to do what we can do and come out firing like we know we can."
In the same vein as McDonald, Dufur guard Aimeelyn Miller discussed the importance of execution and not dwelling on missed opportunities.
There are 32 minutes in every game and there will be plenty of ebbs and flows.
However, the Lady Rangers are definitely better than the 25 points scoffed Saturday, which was a season-low.
"The best thing we can do offensively is keep our patience and let things play out and settle down," Miller said. "We have to keep focused and stay together and not forget the simple things that are basketball like communication, playing together and not letting the moment psyche us out."
The No. 6 Rangers (19-7) host No. 22 Cove (12-11), the No. 3 seed out of the Old Oregon League, at 6 p.m. tonight at Dufur High School.