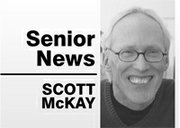 "Anybody who thinks talk is cheap should get some legal advice."
— Franklin P. Jones
American Journalist and Humorist
Don't you wish the American legal system was simple, understandable, and inexpensive? But doesn't it seem like the laws are becoming even more complex, and in the name of clarity and fairness more ambiguous and contradictory, to the point where you just want to scream "I give up!"
But there may be a time when consulting an attorney is your best and wisest choice. You may have been pressured by a door-to-door salesman to buy a security system you don't really need. Or you are threatened by a relative who is living with you. Or you just want to make out a will that will treat your heirs fairly.
But as we all know, legal services are not cheap and are often financially out of reach for many older adults. But for those who feel they can't afford the cost of legal help, there are several resources available to you.
Legal Aid Services of Oregon (LASO) serves people with low-incomes and seniors offering assistance in many areas including elder law. They have a staff of 46 attorneys in offices around the state with their regional office in Portland serving Wasco and Sherman counties. You can call them at 503-224-4086 or 1-800-228-6958.
Or you can attend the 11 a.m. Tuesday lecture at the center on March 4, when Andrea Ogston, an attorney for Legal Aid who focuses on legal help for individuals over 60, will discuss the free legal services available through Legal Aid.
There is also Oregon Law Help, a website that provides a guide to legal information and free civil legal services (non-criminal) for low-income persons and seniors in Oregon.
On the website you can locate information on a variety of legal issues, as well as information on how to contact programs providing legal assistance in Oregon. This website is a free service and can be found online at OregonLawHelp.org
And finally, there is the Lawyer Referral Service, provided by the Oregon State Bar. They cannot provide any legal advice or answer any legal questions, but they can refer you to a lawyer who may be able to assist you.
You can call them at 503-684-3763 or toll-free in Oregon at 800-452-7636.
You won't find a four piece band with backup singers, but you will find at the Center NW Pacific vocalist Nehemiah Brown performing the hits made famous by the likes of Nat King Cole, Tony Bennett, Bobby Darin, and Ray Charles. Back by popular demand, Nehemiah will perform at the center Friday, Feb. 28, from 7 to 9 p.m. The cost is $3 per person.
If country music is more your style, on Tuesday, March 4, at the center, the always popular Strawberry Mountain Band will perform from 7 to 9 p.m. All ages are welcome and donations are appreciated.
The answer to last week's "Remember When" question is the ABC Wide World of Sports, hosted by the unflappable Jim McKay, that broadcasted over 100 different sports including ice barrel jumping which both Don McAllister and Jess Birge particularly remembered. (They are the winners of a free Saturday breakfast March 15.)
For this week, the category is international political theater. Who was the Russian premier who in the autumn of 1960 allegedly (although no photograph has ever been found) angrily banged his shoe on his desk during a UN General Assembly meeting? E-mail your answer to mcseniorcenter@gmail.com, call 541-296-4788 or send it with a pair of shoes manufactured in Pirmasens, Germany.
Menu
Wednesday (26) Pork Roast with Mashed Potatoes and Gravy with Salad Bar
Thursday (27) Lemon Pepper Tilapia
Friday (28) Mushroom Burger with Salad Bar
Monday (3) Delicious homemade Stew
Tuesday (4) Lemon Pepper Fish with Rice Pilaf