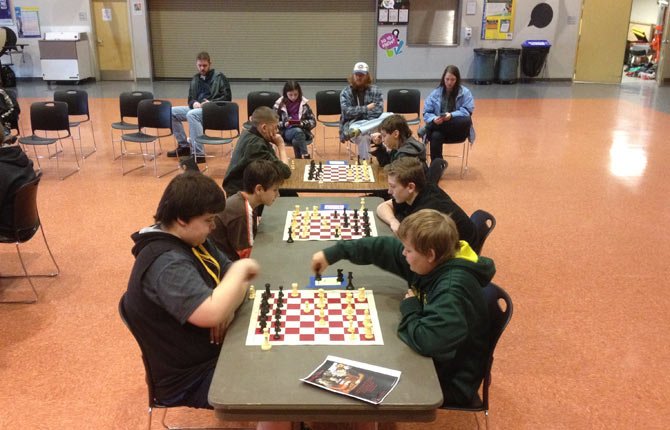 The Region 20 Chess Tournament, which was postponed due to adverse weather conditions earlier this month, was held at The Dalles Middle School on February 15th.
During the mostly silent event, students sat and pondered moves while family and friends looked on from their seats in The Dalles Middle School commons.
Ocassional calls of "check" rang out across the room until, one by one, "check mate" was spoken softly as competitors concluded their games and shook hands in sportsmanlike fashion.
By the time the last knight fell, freshmen Chase Snodgrass and Jacob Holloran qualified for the individual State High School Chess Tournament in Portland on March 14 and 15. Snodgrass and Holloran are no strangers to the State Championships. They have been competing since the fifth grade.
This year, they plan to seek tutoring from Mr. Ben Lin, a local chess master and math teacher at The Dalles High School who also happens to be teaching a "Chess Strategies" class during the Awesome period that's held once a week.
The Dalles Middle School Team took first place in the team competition and will be represented at the State Tournament by Ben Waters, Noah Holloran, Quinn Hansen, Spencer Glenn and Hunter Johnson.
Ben Waters, who took first place as an eighth grader may have to choose between the State Wrestling Tournament and the individual State Chess Competition.
Hansen and Glenn both qualified as individual seventh graders, although Hansen reports he's already decided to attend CIY Believe, a "Christ In Youth" event happening across the hall at the Portland convention center on Saturday.
Noah Holloran won four of his five matches to take first place in the sixth grade division and also qualified for the individual State Competition.
The state high school chess tournament will take place March 14-15.