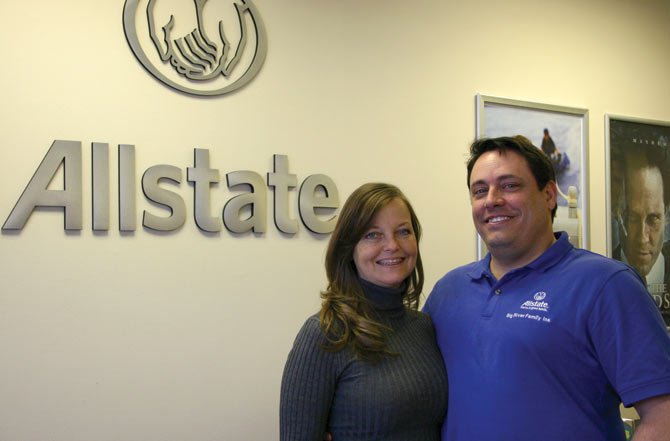 Martin Schwarzbach has purchased the Allstate Insurance Company agency in The Dalles.
Schwarzbach is the exclusive agent for Allstate in The Dalles. His business, Big River Family Insurance, LLC, is located at 1254 W. Sixth St., in Cascade Square in The Dalles.
Schwarzbach was born and raised in Mosier. He graduated from Wahtonka High School in 1988 and worked for Northwest Aluminum for 10 years before being laid off in 2001, 10 years to the day from his hiring date.
"I did the retraining they offered and became an aircraft mechanic," Schwarzbach said. "Then I moved from here to Key West, then to the Virgin Islands. It was a long journey."
He also worked in California, then took a job last year in Texas, which is where he met his fiancé, Shelley Donovan, who serves as the company's office manager.
Schwarzbach and Donovan returned to The Dalles to be closer to his children, a 24-year-old who is now in the Air Force and a younger son who just graduated from high school.
Schwarzbach and Donovan both went through extensive training through Allstate in Chicago and in Seattle. Donovan brings a background in home building and accounting. In Texas, she worked for Houston First Baptist Church and David Weekeley Homes.
Schwarzbach and Donovan want to bring a high level of personal customer service to their business.
"And we want people to know in the surrounding areas, even though we are not local, we still have a local touch," Donovan said. "We know these people by their names and their situations."
The company is licensed to sell insurance and annuities in Oregon and Washington, Schwarzbach noted.
"It's a unique situation," Schwarzbach said. "Most agents can't get licensed in multiple states, except if they're on a border."
He and Donovan said they are reviewing the policies of their current clients to make sure they have the most up-to-date and affordable coverage available.
"We're not here to sell the most expensive policy," Donovan said. "We're not trying to make a buck. We're trying to build a relationship, even if it may not benefit us right away."
Efforts to save money aren't always met with acceptance, Schwarzbach noted. One man, when told he could save $1,000 a year and receive exactly the same coverage, told Schwarzbach he preferred to keep his 40-year-old policy.
Schwarzbach is a hands-on business owner, Donovan said.
"If anybody walks in on a daily basis, they're going to see his face," she said. "He's very accessible."
Schwarzbach and Donovan plan to be very involved in the community. They've already joined The Dalles Area Chamber of Commerce and become a sponsor of the Northwest Cherry Festival and involved in Relay for Life.
The couple is joined in the local Allstate office by licensed sales producers Brian Dixon and Doris Sanchez.
The office is open from 9 a.m. to 6 p.m., with an eye toward convenience for people who work.
Call the office at 541-296-0269 or email Schwarzbach at martin.s
@allstate.com.