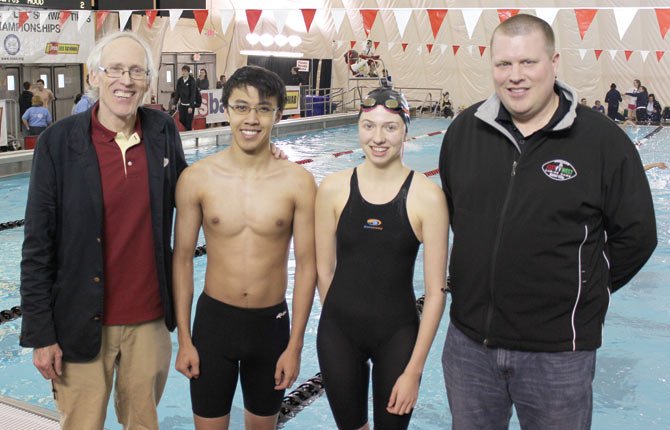 Erin Nelson and Ming Ou were afforded one of the greatest opportunities a high school athlete can aspire to reach, a state berth and a chance to stand alone on the podium amongst the best.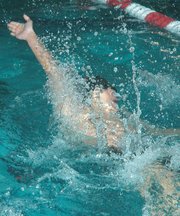 The Dalles Wahtonka senior duo had previously accomplished one part of their preseason goals and aspirations with district titles in their respective events on Feb. 15 in Hood River.
Saturday at the OSAA/U.S. Bank/Les Schwab Tires 2014 5A Swimming State Championships at Mount Hood Aquatics Center in Gresham, the Tribe tandem did not make it past the preliminary rounds, but actually dropped time from their district runs.
In her 50-yard freestyle race, Nelson notched a final marker of 26.75 seconds, a new personal record, for 12th place in the field.
After that race, Nelson prepared herself for one of the most grueling events of the swim circuit, the 500-yard freestyle, an event where she owns the high school record.
She actually re-set that record Saturday in Gresham with a time of five minutes and 43.13 to secure 11th place, a drop of nearly a second from her state-qualifying time of 5:44.35.
TDW head coach Scott McKay said it took determination and the will to put in extra time in the pool that was the driving force behind Nelson's exploits.
"She was determined to go to state this year in both the 50 freestyle and the 500," McKay said. "It was her senior year and her last chance. And it was so exciting to see her achieve that goal. That is the thrill of victory at the local level."
Coming off a personal record of 58.75 at districts, Ou entered the state fray as the No. 12 seed in his 100-yard butterfly, so his work was cut out for him.
In his only run, Ou clocked in at 1:01.21 for 12th place, nearly 12 seconds behind Springfield's Carlos Hunnicut (49.62).
For The Dalles Wahtonka High School history, only Daniel Davidson has a faster time in this event, so Ou left a solid legacy in place.
Although blessed with a quirky personality, McKay said Ou displayed a quiet confidence of what goals he wanted to accomplish in his final campaign.
"He kept his goals to himself and just worked hard to achieve them," McKay said of Ou. "He would often be goofy in practice, but when he swam, he always swam fast – unless it was anything over 125 meters. He worked out with weights on his own, and would often come to practice early if he had to leave early because of school, work or other responsibilities."
One of the toughest terms a coach and athlete can come to grips with is finality of a four-year career.
To many, it can pass in a blink of an eye.
From her days of swimming early in life for The Dalles Swim Team summer squad, she set the bar high for herself.
McKay said that when Nelson is in her competitive zone, coaches and athletes alike do not want to get in her way.
"I think she has definitely grown over the four years," McKay said. "Some may feel high school students are lazy, unfocused and immature, but all the students I know from swim team are working their rears off trying to balance school work, sports and other extracurricular high school activities, family and a social life. Erin is a prime example of that. She is one over committed kid, but I think she really likes the challenge."
Through the years in each season, whether spring, summer, fall or winter, Nelson honed her skills in any body of water she could find.
She would make trips to Hood River as part of a club team, to work with coach Shelly Rawding.
Her tireless work ethic definitely puts her in the pantheon of former Tribe greats such as Carrie Kelsey and Davidson. "She is up there with the best of them," McKay said. "She holds the high school record, which she lowered again at state to 5:43.13. If you looked at her, you might not think she could go that fast. But, she has great technique — smooth stroke, little resistance in the water, fast kick and fast turns."
In the same breath as Nelson, Ou epitomized an athlete who never left a stone unturned in terms of preparation and desire. Just the fact that Ou broke a minute at districts is something in which McKay shows tremendous pride.
Ou set his goals and had the plan is place to accomplish them, as he became more focused and dedicated to enable himself to get to an elite level.
"I think Ming has always been dedicated," McKay said. "But, like I mentioned before high school students have to balance so much. I don't want a swimmer to only focus on swimming to the detriment of school and family. I think Ming has been able to do that. And when you know this is your last year, it does make one more motivated."
With graduation right around the corner for both Ou and Nelson, there are thoughts of taking their talents to the collegiate level.
If the college he chooses has a swim team, Ou is primed to give it a chance.
Nelson also has desires to swim at the next level.
"She is looking at smaller Division III schools and several have swim teams," McKay said. "I believe she would like to swim in college and I think would do very well. I am sure that Erin will make the right choices when considering her future swimming career."
Whatever field or college they choose, McKay said he was happy to be a part of his athletes' lives.
"I know they will be successful in the adult working lives," McKay said. "The determination of a good coach is where your athletes are in 20 years."

With Ou and Nelson setting the building blocks in a successful program, McKay is looking towards several of his returning athletes to take that next step. Andrew Clifford and Allie Wood both have a chance at it next year.
Aside from that duo, McKay added that there is a good crop of freshmen coming up through the ranks and all of them could make it to state by their senior year.
It will take a lot of work through the spring and summer.
"All the successful swimmers have set high goals and work hard to achieve them," McKay added. "They did not sleep walk through high school and let things happen for them. They took charge of their future and made it happen. That is necessary, but doesn't always guarantee success. I know several fantastic young people who worked hard, put in extra time and were leaders, but never made it to state or achieved their ultimate goals."
For additional information on the TDW swim program or to inquire about off season workouts, interested parties can email smckay1948@gmail.com.