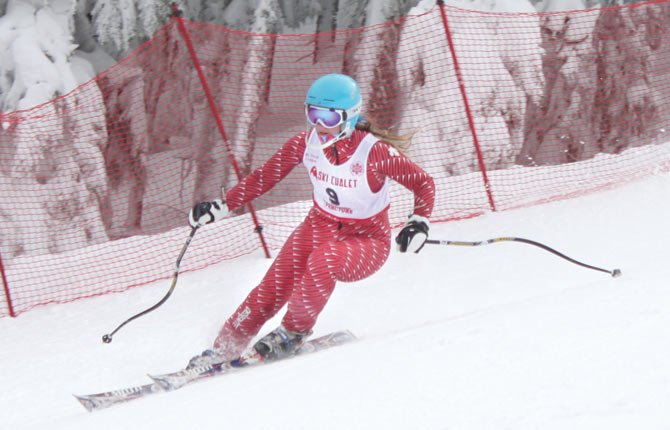 The Dalles Wahtonka head coach Jeff Cordell has never uttered a sweeter term – his boys and girls ski team is headed to state.
In their final regular season race in Mount Hood League action, the two teams had five athletes end up in the top-5 for a pair of top-2 rankings in a giant slalom event located at Ski Bowl at Mount Hood Meadows on the Reynolds Run.
With each team placing second, TDW chalked up a trip to the Oregon Interscholastic Ski Racing State Championships on March 5-7 at Mount Hood Meadows.
In all, there were 84 individuals taken to task under tough conditions of firm, but grippy snow with cold temperatures and light wind, with intermittent snow showers and fog.
Cordell said the Reynolds Run is a stiff test for ski racers, more than a minute long, with some challenging terrain.
Two female skiers crashed hard enough to be taken off the hill by ski patrol.
Only one dealt with serious enough injuries for further medical attention.
"Many of the top-seeded girls were disqualified on one run or the other, and three of the top five disqualified on both runs," coach Cordell said. "There was a delay set near the bottom of the first pitch and a lot of kids just didn't inspect well enough to see it at speed. However, our teams didn't seem to have a problem with it."
Skiing without the services of senior standout Carsen Cordell, the Tribe coach had to shuffle his roster with hopes of churning out solid performances to secure a state berth.
"I was hoping one of the other girls would step up and help out the team effort, and I was pleasantly surprised," coach Cordell said.

Bailey Cordell came through like a champion with rallies of one minute and 20.16 seconds and 1:23.18 for a time of 2:43.34 to pick up third place in the standings behind Hood River Valley's Lucy McLean (2:22.36) and Korey Cimock (2:26.41).
Courtney Anderson was also a beacon of light for the Eagle Indians, as she scorched her second run in 1:31.69 and a combined marker of 3:05.38, just 43.02 seconds behind McLean in ninth place.
Alyssa Carrico did not bat an eye as well with a time of 3:12.11 to notch 11th place, and Robin Pashek added a respectable time of 3:21.09 for 16th place.
Timarra Roth was good for 19th place in 3:27.34, and Emma Ell-Smith showed her worth on the slopes with a two-run tally of 4:12.42.
Hood River Valley combined marks for 7:31.39 for first place on the team front, with TDW grabbing second place at 8:59.91.
Sandy (9:11.92), St. Mary's Academy (9:23.16) and Cleveland (11:20.13) rounded out the overall standings.
"Courtney really skied strong and is improving every week," the Eagle Indian coach said. "Bailey earned her second podium of the season and Alyssa finished well to keep us in second place. Timarra also had her best finish of the season. She has been moving up all season."
Paced by the efforts of Austin Keillor (2:17.90) and third-place finisher, William lamer (2:26.18), the Hood River Valley boy's ski team scored first place with a 7:15.36.
TDW ended up 41.40 seconds behind at 7:56.76, and Grant High School added an 8:09.26 for third place.
Eli Holeman continued his consistent skiing late in the year with runs of 1:10.02 and 1:11.84 to sneak ahead for second place in 2:21.86, 3.96 seconds higher than Keillor.
Mark Johnson notched a time of 2:39.03 to grab seventh place, Griffin Martin raced home in 3:06.33 and Martin Carter posted an 18th-place outcome with his 3:10.66.
Freshman Preston Klindt added a 3:21.83, after getting a first run of 1:27.22.
It was another workmanlike performance by a boy's team that is steadily climbing closer to catching Hood River sooner rather than later.
"The boys had no trouble holding on to their second place ranking, led by Eli Holeman's very fast two runs, as well as Mark Johnson," coach Cordell said. "Those boys love to ski fast and it really shows in the giant slalom."
TDW heads to Ski Bowl at 10 a.m. Saturday for its year-end awards race.
After that event, the final league standings will be tallied up.