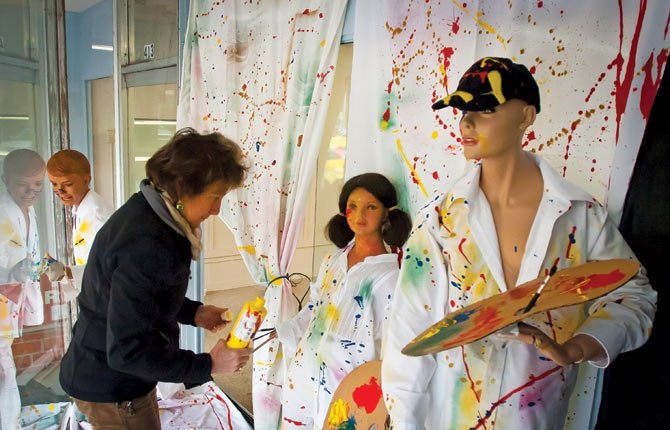 Bright splatter painting on a crisp white background spotlights the impact of art in a downtown storefront display window.
Contrast that with the dismal, black life of world without art to get the message that art brings light and energy to life.
"We wanted to advertise The Dalles Art Center in a human way," said artist Yvonne Pepin-Wakefield, one of the originators of the display.
The idea is to encourage strolling passengers from the tour boats arriving regularly in The Dalles this year to detour from their Second Street route up to Fourth Street, where the Art Center offers colorful and artistic mementos.
The mannequins may look a little familiar. They've lived in the upper story of the former Hudson Insurance building —historically a house of ill repute — for years, receiving seasonal decoration month by month. Carolyn Wood donated the old-style mannequins on the stipulation that she not get them back.
St. Vincent de Paul donated the white and black clothing for the display. And Bill Matthews has donated the display window in his vacant commercial space.
"We're giving the town down here some color," said Carmen Toll, executive director of the Art Center. "We're also promoting the artist of the month."
The adjacent window will feature art from local artists, as well as promotion of the Gorge Artists Open Studio weekend, set this year for April 11 to 13.