The roots of all goodness lie in the soil of appreciation for goodness.
— Dalai Lama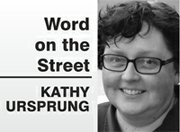 All around you: In our heads, we know we live in a world-class tourist destination. National Geographic tells us it's so. So does True West magazine. Now Via, the travel magazine put out by those intrepid motorists, AAA Oregon, has included a "Weekender" article in its March-April issue on The Dalles. The story encourages travelers to stop off here for a couple of days to enjoy the local opportunities.
But what about us? We live here. Do we take time to enjoy the many things The Dalles and its surroundings have to offer? Maybe we should take a weekend for ourselves to relish what's right at our own front door.
Some of Via's suggestions: check out the mammoth model at the Columbia Gorge Discovery Center and Wasco County Historical Museum — and don't miss the raptor show (twice daily), or tour The Dalles Dam.
Absorb the rainbow wildflower splendor of a spring stroll at Tom McCall Preserve (OK, you may want to wait until April.) and the river breeze along Riverfront Trail, and check out the ancient petroglyphs at Columbia Hills State Park.
To sustain yourself on this journey through home territory, Via suggests stopping by the Anzac Tea Parlor or the Baldwin Saloon, both ripe with local history.
Don't forget a few souvenirs of your journey, Via suggests, from Breezeway Antiques, Cannon Packer or Klindt's Booksellers.
Of course, those are just the tip of the iceberg. As a resident, you probably have a few ideas of your own that a visitor could never hope to find without a local guide. If you don't, the 2013 Columbia Gorge Visitor's Guide is still available, with a new edition coming out in May.
Sunshine may be in short supply at the moment, but it won't be long before spring returns to the gorge.
Take some time now to think about all the ways you can appreciate what's around you in The Dalles and the Columbia Gorge. People travel the world over to get here. You just have to step out your door.
And speaking of travelers: The Union Street dock calendar is filling up fast for 2014 and this might be a good time to be thinking about how you can attract tour boat passengers to your place of business. (See how The Dalles Art Center is trying to do that at lower right.)
Think affordable souvenirs and munchables. Think dynamic, eye-catching window displays. Think informative and courteous store clerks (maybe in historic dress?).
What does your business have to offer visitors to the area and how will those visitors find out about it?
You can find a copy of the current boat schedule online on The Chronicle's website at: http://bit.ly/1frEQVe.
Google and business: Google's Katy Bowman will be offering a pair of brown bag lunch discussions on how Google can help in business.
The first is March 5, and covers Google Drive, which lets you store up to 15 gigabytes of data free, access it anywhere and collaborate with others.
The second March 12 and covers working with Google's free online calendar.
Both are at the Gorge Innoventure office, 1100 E. Port Marina Drive, Suite 101, Hood River, from noon to 1 p.m. Admission for each is $5 for nonmembers. Register online at gorgeinnoventure.com.
Radio auction returns: The popular Bicoastal Media/Griffith Motors Radio Auction will return Saturday, March 8, offering $150,000 in goods and services from area businesses at substantial savings.
Listeners can bid on items including appliances, home improvement opportunities, jewelry, automotive accessories, vision and dental services, unique quality photography sessions, memberships and passes to gorge recreational sites, and much, much more.
Plus there will be instant auction opportunities to purchase gift certificates for area restaurants and stores at savings.
Listen to bids beginning at 8 a.m. and continuing into the mid-afternoon Saturday, March 8, on KIHR-AM 1340/98.3 FM, 105.5/96.9 FM KCGB, 93.5 FM KACI, Newsradio 1300/103.9 FM KACI, and on-line at Gorgeradio.com, with updates on the Gorge Radio Facebook page.

Go to Gorgeradio.com for a complete listing of items available.
Have you started a new business? Purchased an old one? Remodeled? Hired a new professional? Or otherwise made a big splash? We want to know about and so does the community. Email business news tips and Word on the Street items to
kursprung@thedalleschronicle.com or call 541-506-4601.