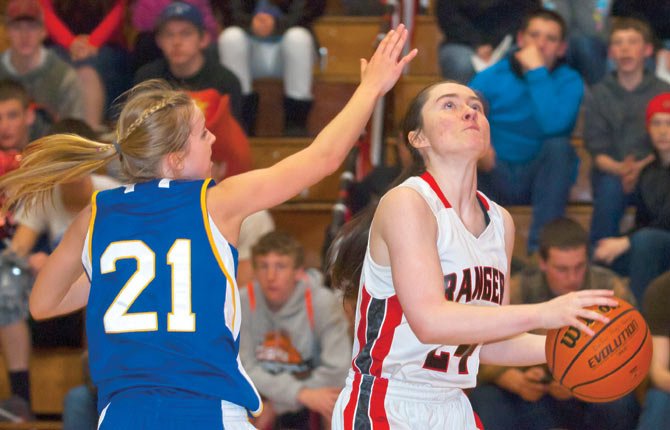 For the past four years, the Dufur Rangers have had their hearts ripped out in opening state sub-round defeats.
Wednesday's tilt was paramount in terms of importance – this group has grown weary of such repeat performances.
From the second quarter on, the Lady Rangers dug in defensively and found a consistent offense to pound out a 51-33 victory over Cove in girl's basketball play at Dufur High School.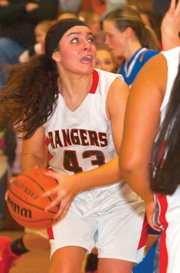 "We really played Dufur basketball tonight," said Dufur junior Taylor Darden. "We came out excited, fearless and we just played well tonight as a team. The last few years, we have been getting knocked out of the first round and that has obviously been hurting us. We decided tonight to play as hard as we could to keep our season going. Getting to Baker has been our goal. We are one step closer."
After a first frame that featured four ties and seven lead changes, Dufur snuck ahead by a 15-13 margin.
In a span of five minutes and 21 seconds of the second quarter, the Rangers used a 9-1 rally to take a 24-14 lead.
Teneille McDonald had a basket to start the quarter, and then Kelly Heemsah answered with consecutive inside jumpers.
Both squads then traded a free throw apiece, before Darden found a seam in the paint for a jump shot to move her team ahead, 24-14.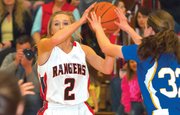 Dufur wound up posting an 11-4 run in the second and jumped out in front 26-17 at the break.
The lead swelled to as much as 31-17 in the first 1:27 of the third quarter, but then Cove rallied for a 7-0 run to close the gap to 31-25 with 2:30 remaining, with Molly Delcurto capping the spurt with a 3-pointer.
Dufur committed a turnover on its next possession, and Old Oregon League Player of the Year, Mikayla Murchison, scooped up the loose ball and dribbled downcourt looking for a layup to move her team closer.
Murchison made a layup and the whistle blew, but the Leopard senior was called for an offensive foul.
Instead of the Leopards looking at a 31-28 deficit, the change of tide kept Dufur ahead by two possessions.
"That was a big play right there," said Cove head coach Brendan May. "Instead of a three-point game and us gaining momentum, it just took the wind out of our sails."
Over their next two possessions, the Rangers bounced back with a pair of free throws by Alexa Macias and a layup from Heemsah to swell the lead out to 35-25 with 1:37 on the watch.
Both teams netted 12 points apiece in the third period, so Dufur still held a nine-point cushion at 38-29 with one quarter left.
Murchison sank a layup at the 4:12 mark of the fourth quarter to run the count to 42-33, but that was the last time her squad would hit a field goal, as Dufur ended on a 9-0 run.
"We wanted to be sure that we came out aggressively," said Dufur coach Hollie Darden. "That is our motto for the rest of the year – just come out, play hard, be aggressive and do what we do well on both ends of the floor."
All told, Dufur sank 19 field goals, two from 3-point territory and added an 11 for 21 split from the line, as eight different players made notches in the scorebook.
Taylor Darden and McDonald paced the offense with 12 points apiece, and Sammi Ghramm tacked on eight points.
"On the offensive part, we did really well because we were more patient and we waited for the right shots instead of just rushing," said Hannah Harris, who had four points. "There have been times this year where we would get anxious and we get out of our comfort zone, so for us to play consistent on offense helped us come together better to score points."
Murchison led the Leopards with 15 points on six field goals and a 3 for 5 effort from the line.
Kellie Nostrant added seven points, and Delcurto was good for six for Cove, which had 12 baskets and an 8 of 17 ratio from the charity stripe.
"Both teams fought really hard, but the better team came out on top tonight," said Murchison, a senior.
Just finding a way to stop Murchison was critical for Dufur's success.
The 5-foot-11 inch center hit two field goals and three free throws in the first quarter, but she was held off the scoreboard in the second frame.
"We started out the game playing behind her just to test her a little bit to see what she was going to be able to get done 1-on-1," coach Darden said. "She got to the rim early on and it showed us that their goal was to pound it into her. We ended up playing a 2-3 zone and fronted her and had a lot of help from behind. That pretty much neutralized her for the most part."
Up next for the Rangers is a tough test at 6:30 p.m. Friday against No. 14 Perrydale (17-9 overall, 12-2 Casco League).
The Pirates defeated City Christian by a 47-39 score at home this past Tuesday.
With a trip to Baker City hanging in the balance, there is previous film from these two squad locking horns on Dec. 7, 2013 as part of the Ranger Tournament.
Even without Taylor Darden, who was out of the lineup due to injury, Dufur won the contest, 26-20.
Coach Darden said much of the preparation would be on using his team's size and physical advantage in the paint and using control and good decision-making against the Pirates' full-court pressure defense.
"We need to make sure that we take care of the basketball and make sure that we maximize our number of possessions when they press," the Dufur coach said. "We want to make sure that we take care of the basketball and continue to be aggressive. There are going to be some things available for us offensively because they are going to come out and get after us really hard and overplay."