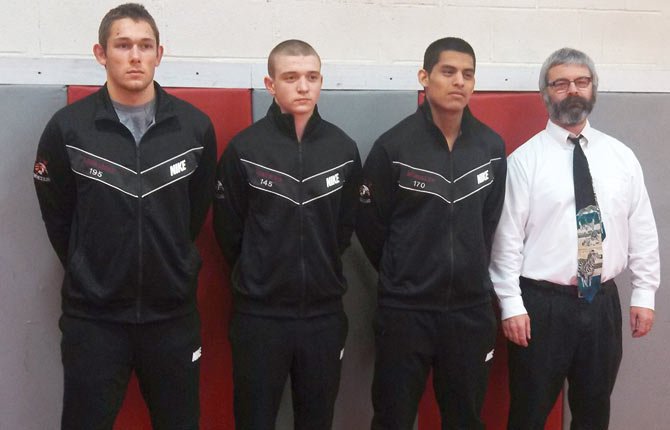 The Dalles Wahtonka wrestling standouts Eric Morales, Joe Linebarger and Mitchell Waters have been in deep business mode in practice sessions this week in preparation for the OSAA state wrestling championships at Memorial Coliseum in Portland.
All three are unseeded and will go into the tournament as underdogs.
Tribe assistant coach Chad Sperry said the coaches would love to see the trio place in the top-6 to reachthe podium this year, but that it is going to be a major undertaking, as Linebarger and Waters are making their first trips to the state tournament and Morales won one match, but did not place last year.

"The key for placing will be continued aggressive and confident wrestling," Sperry said. "If one of these wrestlers loses in the championship bracket, it is critical that they quickly bounce back, not only physically, but mentally as well to drive hard in the consolation bracket in order to make the podium."
Morales (170 pounds) kicks off his tournament slate on Friday morning with Bend's Tucker Pies. Pies placed second in the District 4 tournament two weeks ago.

If he can come out on top, Morales would face off against either No. 3 seed, Devin White, of Sandy, or South Albany's Dakota Carter.
One good thing about Morales' draw is that he avoids the No. 1 seed, Lebanon's Colton Salle and Eagle Point's Sean Freeman, the No. 4 seed out of Eagle Point.
"Eric has faced very few of his fellow wrestlers in the 170 pound weight class this past year, so there are a lot of unknowns for him," Sperry said.

Waters (145) is immediately going to be put through a meat grinder of a draw against the No. 1 seed, Tracy Pitcher, from Mountain View.

Earlier in the season, in tournament action on Dec. 21, 2013 at the Adrian Irwin Tournament in Redmond, Waters wound up being pinned by Pitcher.

"He will have the daunting task of shaking off that match and coming in ready to avenge that loss," Sperry added.

If Waters can pull off a win, the sophomore will face either Wilsonville's Josiah Day or Crescent Valley's Brock Wilson.
As he showed last week, Waters has the potential to get on a roll.
After losing his opening district match, Waters reeled off four consecutive victories to secure his state slot.
Linebarger, on the other hand, has already locked horns with both his first opponent and possibly his second, should he win and advance through the first round.

Linebarger, another sophomore, will start against Zach LaCasse, a senior from Redmond.

At the Irwin Invitational, Linebarger beat LaCasse in the semifinals by a score of 6-1.

Should Linebarger defeat LaCasse, he would likely face Sherwood senior Ryan Jurgens, who is the No. 3 seed in the tournament and placed fourth at state last year.

At the Don York Tournament in Portland in January of this year, Jurgens defeated Linebarger.
Sperry said that this year's district results of six placers and the success of sending three wrestlers to state is a significant step for The Dalles Wahtonka wrestling program.
Not since 2008 has TDW sent that many wrestlers to state.

"It is has been the mission of this program to build a strong core group of wrestlers who are both mentally and physically strong and hungry to compete," Sperry said. "By the end of the season, we had achieved that."
The coach went on to say that the success has been in part due to a young core group of wrestlers coming into high school from a strong middle school program, as well as a coaching philosophy of executing fundamental moves with great speed, efficiency and precision.
"We drill moves over and over and over again in practice until these young men no longer have to think about the moves they execute," Sperry said. "It becomes more of a natural reaction."
Wrestling begins at 8:30 a.m. at Memorial Coliseum Friday and continues on to the finals at 7 p.m. Saturday night.

For up-to-the-minute results, photos and video, interested fans can log on to www.facebook.com/TheDallesWahtonkaWrestlingProgram.