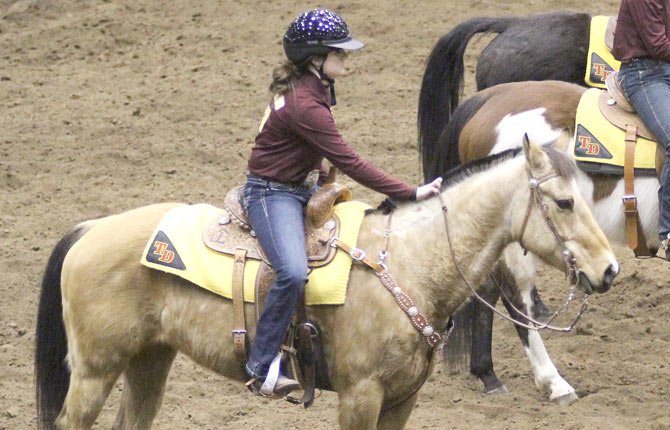 Central District Equestrian
Central District Equestrian
February 21-23 in Redmond
Individual Results
Dressage
25th Carsen Cordell........The Dalles
27th Rachel Chamberlin.The Dalles
Hunt Seat Equitation
24th Carsen Cordell........The Dalles
Showmanship
22nd R. Chamberlin........The Dalles
27th Hannah Simmons...The Dalles
29th Harley Burgener..............Dufur
31st Thomas Richman....The Dalles
34th Sara Treichel...........The Dalles
Working Rancher
4th Shayne Holmes...........Sherman
8th Harley Burgener................Dufur
9th Zachary Christiansen........Dufur
Trail Equitation
15th Harley Burgener..............Dufur
19th Zachary Christansen.......Dufur
21st Rachel Chamberlin..The Dalles
22nd Mikkaela Ruise.........Sherman
24th Sara Treichel...........The Dalles
In Hand Trail
15th Mikkaela Ruise..........Sherman
Reining
7th Shayne Holmes...........Sherman
Western Horsemanship
14th Harley Burgener..............Dufur
21st Hannah Simmons...The Dalles
28th Mikkaela Ruise..........Sherman
32nd Zachary Christansen......Dufur
35th Sara Treichel...........The Dalles
Barrels
38th Mackenzie Urness.TDW, 18.71
43rd Jacob Richman.....TDW, 19.67
57th Morgan Ramirez....TDW, 24.26
60th Thomas Richman..TDW, 25.43
66th Lauren Thalhofer....TDW, 40.09
Pole Bending
27 Shayne Holmes.Sherman, 29.77
37th Mackenzie Urness.TDW, 34.71
46th Jacob Richman.....TDW, 39.36
48th Thomas Richman..TDW, 39.74
49th Morgan Ramirez....TDW, 40.16
57th Lauren Thalhofer......TDW, 57.4
Keyhole
6th Jacob Richman.........TDW, 9.21
16th Mackenzie Urness...TDW, 11.7
30th Lauren Thalhofer......TDW, 23.2
31st Morgan Ramirez....TDW, 36.26
Figure 8
5th Carsen Cordell........TDW, 11.36
26th Mackenzie Urness.TDW, 13.68
47th Thomas Richman..TDW, 18.01
49th Morgan Ramirez.....TDW,18.73
54th Lauren Thalhofer....TDW, 23.28
Individual Flags
2nd Zach Christiansen.Dufur, 13.14
11th Jacob Richman.....TDW, 17.43
13th Sara Treichel..........TDW, 18.56
24th Morgan Ramirez....TDW, 30.29
---
Team Events
In Hand Obstacle Relay
6th Thomas Richman, Sara Treichel, Jacob Richman, Rachel Chamberlin ....................The Dalles
Working Pairs
15th Harley Burgener & Zachary Christansen.............................Dufur
16th Mackenzie Urness & Carsen Cordell............................The Dalles
18th Shayne Holmes & Mikkaela Ruise.................................Sherman
20th Thomas Richman & Sara Treichel............................The Dalles
Freestyle Fours Drill
3rd The Dalles: Jacob Richman, Mackenzie Urness, Carsen Cordell, Hannah Simmons
Team Penning
3rd TDW A: J. Richman, Mackenzie Urness, Carsen Cordell.................... ....................3 pens, 6 cows, 227.04
18th The Dalles B: Thomas Richman, Morgan Ramirez, Hannah Simmons...........1 pen, 1 cow, 76.03
Canadian Flags
7th TDW A: Thomas Richman, Jacob Richman, Mackenzie Urness, Carsen Cordell...........54.12
Birangle
13th The Dalles A: Mackenzie Urness & Carsen Cordell........29.53
27th The Dalles C: Sara Treichel &Morgan Ramirez...................40.16
30th Dufur A: Harley Burgener & Zachary Christansen...............41.10
31st The Dalles B: Thomas Richman & Jacob Richman....41.33
With a new core group competing for the first time and three experienced returners back at the helm, The Dalles Wahtonka equestrian team racked up seven top-11 finishes for their best outcome in the past five years in a three-day Oregon High School Equestrian Team event ending Sunday at the Deschutes County Fair Grounds located in Redmond.
For having so many participants hitting the varsity circuit for the first time in their careers, TDW lead advisor, Marie Cordell, could not be more proud of what she saw transpire in three days of action.
"All the kids did so amazing," Cordell said. "The best thing was seeing how excited everyone was to compete and the huge smiles on their faces. A lot of hard work and training really paid off."
Cordell said there were more than a handful of personal bests, but the squad performed its best team events.
In the freestyle fours drill, the quartet of Jacob Richman, Mackenzie Urness, Carsen Cordell and Hannah Simmons locked up third place.
Coach Cordell said there were a few events that TDW had not previously performed, but with having such a deep roster, the drill event was somewhere they excelled.
"It was so exciting to watch those four kids get out there and do their pattern to music in front of all those people," coach Cordell stated. "The other teams were so excited we had a drill team again."
Richman, Urness and Carsen Cordell also matched wits for third place in team penning with three pens and six cows for 227.04 points.
Thomas Richman, Morgan Ramirez and Hannah Simmons had one pen and one cow for 76.03.
Richman, one of the more experienced equestrian riders, was tabbed along with newcomers, Ramirez and Simmons, to tally a pen on their third attempt.
"Team Penning was awesome," coach Cordell said. "We had two teams go in and, out of 24 teams, we got third, if we do that again, we qualify for state. Carsen and Jacob penned last year and, with the addition of Mackenzie, they were great, finishing the night with three pens."
The Richman boys, Urness and Carsen Cordell racked up a marker of 54.12 for seventh place in Canadian flags.
Urness and Carsen Cordell did not stop there, as they combined for a tally of 29.53 in bi-rangle to slug out 13th place.
Both Richman's Sara Treichel and Rachel Chamberlin tacked on sixth place for their efforts at in-hand obstacle relay.
"We haven't had an IHOR team in three years," coach Cordell said. "It was so nice to compete this year. All the kids did great their first meet. It is really challenging."
Urness and Carsen Cordell placed 16th in working pairs and Thomas Richman and Treichel added 20th in the same event.
Through it all, TDW scored 63 points.
On the individual side, Jacob Richman secured sixth place in keyhole with a 9.21, and Makenzie Urness added an 11.7 for 16th place.
Carsen Cordell tacked on an 11.36 for fifth place in figure 8, while Urness dropped a 13.68 to finish 26th.
Jacob Richman had 11th place for his try at individual flags with a 17.43, and Treichel motored home in 18.56 for 13th place.
"There are so many kids in these events that getting in the top-10 is really up there," said the Tribe coach.
In the mini classification, Dufur came away with first place at 43 points, and Sherman reeled off 30 points for second place.
In working rancher, Sherman's Shayne Holmes scored fourth place, Dufur's Harley Burgener tabbed eighth and Zach Christiansen tallied ninth place.
Burgener checked in with 15th for her efforts in trail equitation, Christiansen was good for 19th, and Sherman's Mikkaela Ruise maxed out in 22nd place.
At in-hand trail, Ruise placed 15th and Holmes added seventh in reining.

Christiansen placed second in individual flags with a time of 13.14, and Burgener carded 14th at western horsemanship.
Burgener and Christiansen did well in a team event, working pairs, with 15th place, while Holmes and Ruise added 18th in the same event.
Rounding out the small school category, Burgener and Christiansen added their names to Canadian flags with a time of 41.10 for 30th place.
The next OHSET meet will be in Redmond at the Deschutes County Fairgrounds, from March 28-30, with action starting at 9 a.m.