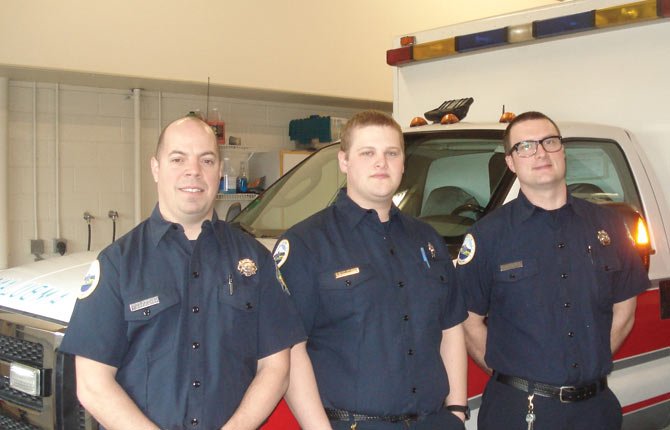 Three new firefighters at Mid-Columbia Fire & Rescue each hail from different backgrounds, but all bring a desire to help others to their new grant-funded, two-year jobs.
Justin Krieck, 24, Matt Lachance, 35, and A.J. Mounsey, 33, joined the fire department this month, and all are paramedics.
The federal grant that pays their wages is designed to boost the staffing of the fire district. The fire district is also working on remodeling its currently unused station in Columbia View Heights so it can be a manned station.
The three new firefighters were asked if they felt a calling to do their job. While they said they wouldn't go that far, both Lachance and Mounsey later said they left jobs with much better pay to come here. Each took a $30,000-a-year pay cut. Mid-Columbia Fire & Rescue Chief Bob Palmer said all three come with experience in emergency medical service.
"We're hoping in some way, somehow that we'll be able to continue their employment here."
The district has sought ways to boost its staffing since getting a downgraded insurance rating several years ago from a national ratings entity. The rating is used by insurers to calculate property owners' insurance rates.
The fire district was downgraded for factors including having just one fire station and not having enough staff on fire scenes.
Mounsey has two bachelor's degrees, in journalism and Japanese, in addition to his associate's degree in emergency medical services from the National College of Technical Instruction. He worked as a copywriter. His work most recently included every ad campaign for Columbia Sportswear over the last three years.
Lachance, a New Hampshire native, worked most recently in Bend, one of several posts he's had in a career in natural resources. He studied grizzly bears in Montana and worked on natural gas pipelines, but got tired of being on the road 300 to 340 days a year.
He'd been intrigued by a wilderness first responder class he took when he was 20, and being in the fire service "was always kind of there in the back of my mind."
He took a few ride-alongs with fire crews "and never looked back."
He started out with just a goal of becoming an EMT basic, but went on to become a paramedic.
"I have been in it for almost three years now and I feel very confident this is not only where I want to be, but where I was meant to be," Lachance said.
Krieck, of Scappoose, has had his whole life to get an up-close look at the fire service. His dad was a lieutenant with the Hillsboro Fire Department.
"I've grown up around it," he said.
In high school, he realized he wanted to follow in his father's footsteps, and he began volunteering in the fire service after he graduated in 2007.
Krieck comes to The Dalles from a private ambulance company in Portland.
He said he feels "it takes a special type of person" to be a firefighter. "It's not for everybody."
Mounsey not only enjoys helping people, but very much appreciates the teamwork required in firefighting and paramedic work. Firefighters enter burning buildings in pairs, and are taught to "never leave each other isolated and alone."
He was born in England and grew up in Portland. In his ad agency work, he got tired of "working in a cubicle."
Also, he said, "I didn't feel I was playing a positive role. I wanted something I could feel prouder about."
His stepfather was a cardiologist and "I wanted to find a way to get into medicine. I saw his career path and didn't really want to be a doctor," Mounsey said.
Rather, he wanted a job that would give him more contact and interaction with the community.
He went to EMT basic school and paramedic school in 2010, and was lucky enough to do his 2011 internship at with Mid-Columbia Fire & Rescue.
"I got a taste of the camaraderie and fell in love with the people here and the community," he said.
He also appreciates that firefighters are trustworthy, and people place their faith in their ability help them in an emergency.
"You see people in a lot of situations and not all of them are complimentary," he said.
"We're all really excited about this. This is a dream come true for all of us," Mounsey said.
And while the grant period ends in two years, Krieck said, "We hope to stay here longer than two years."