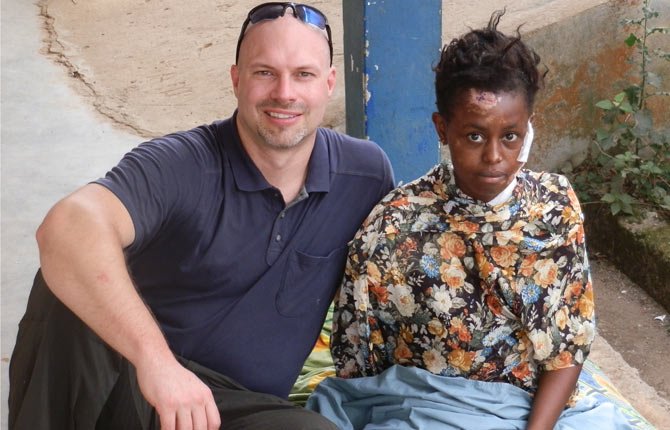 Dr. Jeff Mathisen went to Africa the first time to spell a surgeon who needed to take a month off for training and some down time.
He kept going back because he felt, "That's what God was telling me to do. I feel led to give back the way people gave to me when I was trained."
In a few months he'll be taking his fourth trip to Africa. He'll be gone April 25 to May 23 and he'll be joined by his wife Jennifer, younger sons Caden, 12, and Krae, 7, Dr. Marc McAllister, a urologist, Dawn OpBroek, an ER nurse at Mid-Columbia Medical Center, and her daughter Rachel Chamberlin, a freshman at The Dalles High School.
All attend Calvary Baptist Church in The Dalles, as it happens, and the church has agreed to be the sending mission church, Mathisen said. Donations are already coming in to help fund the mission, and are tax-deductible since it's through a church.
After three days of travel time, they'll arrive at Hope Clinic in N'Zao, Guinea, in West Africa. The motto of the clinic is "We treat and God heals."
"This is an exciting trip because this is about getting other people involved," Mathisen said. "For the first time I feel like we kind of have this true team feel where there are some really talented people, both medically and spiritually, going and I think we're going to be a real encouragement to the people there."
He's gone with smaller groups before. He took his two older sons once, and last year, Dr. Bob Alaimo and his daughter Lizzy went. Lizzy, who just got accepted to medical school, plans to do more mission work when she's able.
"I think I stirred a little bit of fire under Lizzy, too," Mathisen said.
He first found the Hope Clinic through Medical Teams International, based in Tualatin. He'd first gone to that group with plans of going to Kenya to teach African medical residents how to do surgery.
"I thought that's what God was calling me to do."
Then the Hope Clinic opportunity came up, "and six weeks later I was in Guinea. It was a fantastic experience and not at all what I had planned."
Mathisen, a general surgeon at Mid-Columbia Surgical Specialists, said he will keep going on medical missions as long as he's healthy and has the means to go.
On his first visit, he learned very quickly that general surgery is a much broader term in Africa than it is here. There, he's done surgery in orthopedics, gynecology, neurosurgery, and urology, all things that would be handled by specialists here.
"It's pretty scary," he said. "You walked in with a certain skill set and you leave there wondering how in the world God got you through that stuff and how these patients survived. Absolutely amazing."
He lucked out when some orthopedic cases came through the door, because he was able to consult an orthopedic textbook at the clinic that was, unusually, written in English. Guinea, a former French colony, uses French as its medical language.
He'd also email photos of the x-rays to local orthopedic surgeons and ask them what they'd do. They'd reply, but they proposed using equipment or devices that weren't available to him.
So he'd tell them that, and then say, "So now what would you do?" Their first comment was always, "Number one, I'm glad it's not me over there," but then he'd get a pretty decent plan for the surgery.
While he was sometimes in unfamiliar territory in the operating room, he never did come out of a surgery and say, "Wow, that was really dangerous."
And he wasn't totally bereft of modern equipment. "Honestly, for a little tiny hospital in the middle of the African jungle, they are pretty well equipped," he said.
But he helped update their equipment this upcoming trip by arranging for the donation of $150,000 of new, unused laparoscopic equipment. He hopes it arrives by the time he gets there.
The surgeon at the clinic had always wanted to do laparoscopic surgery, "but the amount of money it costs to get that material just doesn't exist in Africa," Mathisen said.
He's also bringing some donated endoscopy equipment with him to enable doctors to look in colons and stomachs.
N'Zao itself has just a couple thousand residents but it is just 17 kilometers from a huge city of more than one million. There's a big hospital in the city, "but the surgical care there is ghastly. It's incredibly awful some of the stories that I've heard."
He got to visit the hospital on his last trip, and "as a medical professional you can't believe it, you can't believe that's the state of medicine in Africa, but that's truly what it is."
In contrast to his typical workload in The Dalles of seeing 25 to 35 patients a day, he sees 80 to 100 patients a day at the Hope Clinic, all of whom have paid $3 up front to see him for a consultation. A hernia operation, for example, costs $40 there, and must be paid in full beforehand. A comparable operation here costs "well over $10,000," he estimated.
Coming up with the $3 or the $40 in N'Zao is a true hardship, since Guinea is not only the second most impoverished nation in the world, but also does not have a welfare system, he said.
Since he's volunteering his services there, Mathisen does not keep any of the money patients pay to see him. It all goes to the clinic, to keep its doors open.
"When you travel across the world and provide really good care for basically nothing and every single patient is grateful and has a smile on their face it brings you back to why you went into medicine," he said.
Patients are polite and grateful for Mathisen's work, which isn't always his experience at home. They also don't get narcotics after surgery, and are grateful for the over-the-counter Tylenol and ibuprofen they receive.
"They kiss your hand and kneel down before you," he said. Meanwhile, stateside, patients post-op are on heavy narcotics "and complaining" of pain.
His first patients after his return home "were a little ticked off" because he tried giving just Tylenol and ibuprofen.
But then he decided it was most appropriate to blend into the culture he was in.
Culture shock in going to Africa, first off, is seeing "stark poverty" all around, Mathisen said.
The operating theater there has one old hand-cranked operating table from the 1960s. He learned they didn't waste anything, and reused things that would get thrown away here.
The best example of that is when a patient is draped for surgery in the U.S. "we use blue towels and we use paper drapes, and throw it all away when we're done. They use the same blue towels that we do and then they use cloth drapes. They wash all of those things and re-sterilize them and use them again. So they're not throwing away hundreds of thousands of dollars of draping and towels."
His stints in Africa have made him much more cost-conscious.
"Our culture at [Mid-Columbia Medical Center] has changed a bit and people are always looking at ways to continue to use things."
Things that are opened and don't get used right away can't be used later for another patient because of rules in American hospitals. But Mathisen keeps them because they can be used in Africa.
Another change for him is on a personal level. "It's hard to do as a surgeon but I think I've slowed down a bit and I'm spending a little more time with the relationship side of being a physician because the African culture is all about relationships."
There, people will sacrifice getting a task done in order to further a relationship.
He's trying to "not so much worry about the physical needs of why they came in the office but worry about where they are mentally or emotionally or even spiritually."
This approach flies in the face of the trend to computerizing patient records, which requires a doctor to interface with a computer rather than a patient during an office visit.
"It has almost caused physicians to not make eye contact with the patient," he said.
When he first went to Guinea, he was warned that returning home would be very hard, and he just laughed. But he got home and just holed up in his house for two or three days.
Part of it was jet lag, but another part was the shock of returning to the land of plenty.
"The last thing I wanted to do was be in a big grocery store, or be in Costco. You've lived in a culture where you've done without and you've done very well and people are joyful and happy and you come back and see what we've bogged down our lives with as Americans, and it's just overwhelming," he said.