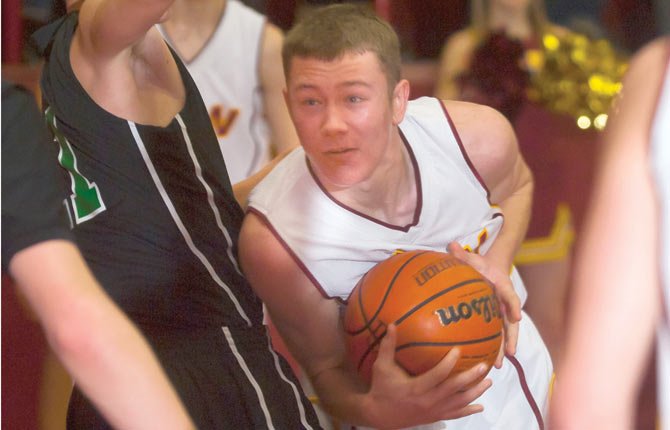 Three players went over double figures, and The Dalles Wahtonka battled back from a halftime deficit with a 27-20 rally in the second half to defeat Hood River Valley Tuesday in Columbia River Conference boy's basketball action in Hood River.
With the win, the Eagle Indians have now won three of their last four games, and the five seniors, Clay Copper, Steven Bartells, Zach Nerdin, Austin Wilson and Chaise Shroll, capped their hoops careers with 10 consecutive wins over the rival Eagles.
"This is something that all of them took a lot if pride in," said TDW coach Bob Townsend.
Hood River got off to quick start in this latest matchup with a 12-9 lead after the opening frame.
As the game middle portions of the game wore on, TDW settled in and added a 13-12 run in the second quarter to creep to within a 24-22 score at the break.
After working on some adjustments, the Eagle Indians came out firing to kick off the second stanza with a momentum-changing 17-9 boost to change the tide for a 39-33 cushion entering the final quarter.
Hood River did not go away lightly, forging an 11-10 output in the fourth period, but they could not get the perimeter jump shots going in time to complete the comeback bid.
"It was a tight game the whole way," Townsend added. "Both teams played with a lot if intensity in the rivalry game."
Last Friday's hero from the Pendleton victory, Coby Conlee, led the No. 34 Tribe with a season-high 16 points, and Nerdin dropped 15 to the mix.
Bartells, the starting point guard, notched 11 points and Wilson was good for seven points.
Playing their best ball at the end of the campaign, Townsend expressed his appreciation that his group stayed the course when dealing with adversity in the opening half.

"I was proud of the kids for coming back in the second half and thought our half court defense and rebounding was the difference," the Eagle Indian coach said.
TDW (6-16 overall, 4-4 league) finishes the regular season with a CRC tilt against first-place and No. 14 Hermiston (16-6, 8-0).
On the girls side, the No. 7 Eagle Indians dominated Hood River Valley by a 39-19 margin Tuesday.
TDW (18-4, 5-3) pays host to No. 3 Hermiston at 7 p.m. tonight for senior night.