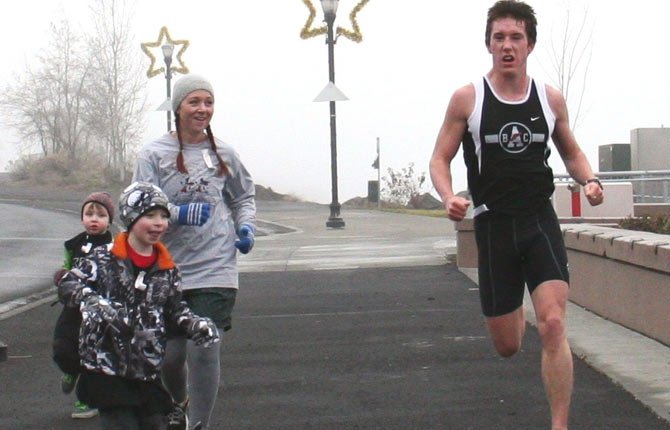 While there were plenty of distances to sign for at the eighth annual Freeze Your Gizzards Blizzard run, two racers, Judy Powell and Diana Pishion, braved the 27-degree elements for more than three hours in a half-marathon duel this past Saturday at Lewis and Clark Festival Park in The Dalles.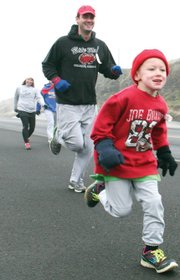 These two area women were on a special quest to complete walking 13 half-marathons this year, and capped the 2013 campaign on the slippery surface in a deadlock at three hours and 20 minutes for a tie in first place.

Much like the long distance event, some of the other distances provided plenty of close finishes and top times along the way with 79 other participants spanning each of the events.
In the 3k race, Luis Martinez took the gold in a solid time of 11:26, while holding off 2012 FREEZE 3k winner, Luke Conklin, who followed close behind in 11:34 and younger brother Justin Conklin broke the finish line in 15.29 for third place.
Colonel Wright third grader, Maisie Bandel-Ramirez, took the gold in 20:16 to lead the women's classification, and Jeanette Atchley followed in 20.30 and Brynn Dawson took the bronze with a mark of 21:49.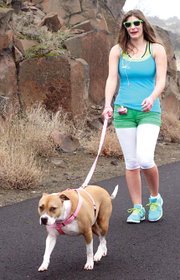 With a little distance to spare in the 5k race, the men's division saw a renewed and improved John Young take the blue ribbon in a time of 18:51, while Goldendale's Randall Jones raced for the silver in 19:19. Local high school runner, Robert Westhafer, snatched third place up in 22:36.
In the female division, Theresa Whitfield covered the course in a fast time of 22:01 for first, and Mimi McDonell earned the silver with a time of 26.51, and Lorasa Jodie, who took third place with a time reading 27:56, followed her up.
Results
Freeze Your Gizzards Blizzard
New Lewis and Clark Festival Park, Dec. 28, 2013
3k results
Luis Martinez 11:26
Luke Conklin 11:34
Justin Conklin 15:29
Ozvaldo Munoz 16:44
Logan Ensbury 18:32
M.T. Bandel-Ramirez 20:16
Jeanette Atchely 20:30
Brynn Dawson 20:31
Amy Wenz 21:49
Lindy Esaacson 21:51
Trevor Waugh 22:46
Cole Waugh 27:48
Dustin Waugh 27:49
Carol Westhafer 29:19
Sabrina Mohr 29:20
Vickie Young 31:00
Linda Normal Barber 31:01
Doris Cunningham 31:29
Austin Manciu 31:30
Brenden Manciu 31:30
---
5k Results
John Young 18:51
Randall Jones 19:19
Theresa Whitfield 22:01
Robert Westhafer 22:36
Owen Lamp 23:10
Scott Bryant 25:58
Mimi McDonell 26;51
Kellen Joseph 27:11
Lorasa Jodie 27:56
Susie Griffin 28:01
Lacey Gorrod 28:23
Super Sue Billette 32:46
Dottie Truelove 32:50
Cindy Berkshire 33:29
Ben Eddy 33:30
Larry Fairclo 33:37
Yvonne Pepin-Wakefield 33:49
Steve Null 34.37
Crystal Eddy 34.41
Hope Johnson 37:19
Brook Remington 37:55
Liz Narciso 38:03
Amanda Leslie 38:05
Donovan Hampton 38:10
Amy Hampton 38:17
Andrew Hampton 38:25
Patty Cooper 38:57
Kim Granville 41:03
Edward Taylor 41:05
Katie Ortega 44:45
Alicia Ortega 44:45
Nancy Mathews 45:02
Eileen Reilich 53:56
---
10k results
Alex Dillard 30:28
David Bandel-Ramirez 42:34
Erin Ford 42:53
Juan J ledezma 42:56
Darryl Houghtelling 43:49
Lara Stone 44:07
Leanne Neal 44:47
Salvador Ledezma 47:58
Leona Eggland 51:04
Andrew Grassman 55:26
Stephanni McAninch 56:57
Kyle Chaffin 57:03
Bryan Mears 57:08
Lynn Rasmussen 58:34
Jen Hill 1:00.13
Elias Hill 1:00.15
Michelle Adams 1:01.44
Jennifer Harris 1:09.10
Chelsea Nares 1:09.25
Katie Scialabba 1:10.15
Mona Keys 1:35.50
Ruth Emett 1:35.50
Judy Shinn 1:36.21
---
Half Marathon
Judy Powell 3:20.00
Diana Pishion 3:20.00
---
Next Race: Jumpstart Valentines Day River Run/Walk at 10 a.m. on Saturday, Feb. 8 at Lewis and Clark Festival Park in The Dalles
For more information, call 541-340-0926 or email the coordinator, tdconklin@qnect.n...
Former state champion harrier, Alex Dillard, who runs track and cross country for the seventh-ranked nationally University of Portland, thawed out the 10k course with a first place finish and a blistering new course record of 30:28, which is a 4:53 per mile average.
David Bandel-Ramirez covered the course in 42:34 for second place, and winding up in third place in the men's division was Juan J. Ledezma, as he crossed the tape in 42:56.
In the women's 10k division, local favorite, Erin Ford, who owns the St. Patrick's Day 10k record, took hold of first place in 42:53, and another stout harrier, Lara Stone, finished in second place with a time of 44:07.
Leanne Neal enjoyed a time of 48:47 for third place in the women's 10k.
The Freeze Your Gizzards race is the first of three Jumpstart Winter Three Race Series.
These winter events are extra elementary physical education, curriculum credit for all District 21 area elementary students.

Dry Hollow Elementary physical education specialist, J.R. Runyon, Chenowith specialist, Sammy Tennison, and Colonel Wright specialist, Tom Conklin, have worked to create an alternate activity to get students out onto the Columbia River Trail during the winter months.
These events are no charge, in the hopes of keeping youth and adults active during the slower metabolic months of winter.
Conklin said the goal for these winter trail events, is threefold.
He wants to create an opportunity for runners to test their fitness on a flat, safe trail, train for another month and return in February for the Valentine's event, and test their fitness against the same course, train for another month and finish with a final fitness test in March at the St. Patty's Trail run/walk.
"Two months is enough time to see improvement in running or walking fitness, if you get out three-to-five times per week," he said. "The weight loss is a side benefit of this type of long range fitness planning. (We want to) get folks out and moving, hopefully students can stir this activity within their own households. We want to raise much needed funds for good causes."
These trail events are fundraisers for Colonel Wright Elementary Physical Education and the camp scholarship program for Jumpstart Summer Basketball program.
The camp seeks its 21st annual summer camp during the last week in June to be held at the Dufur School District.
The next event is slated for 10 a.m. on Saturday, Feb. 8 in The Dalles. For more information, call 541-340-0926.