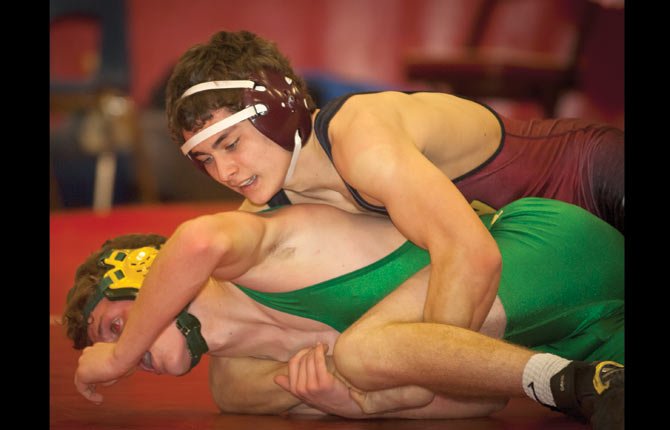 The Dalles Wahtonka hit center stage for wrestling action against several local schools at the Adrian Irwin Tournament in Redmond last Saturday and had three top-3 finishes from CV Regalado, Joe Linebarger and Eric Morales.
Wrestling at 196 pounds, Linebarger had to wait through two byes, but then got back to action and won matches to advance to the finals against Redmond's Brennan Yates, where he lost by first round pinfall at the one minute and 17 second mark.
In the quarterfinals, the Tribe sophomore scored a 7-2 decision over Mountain View's Spencer Klein and he added a 6-1 decision over Redmond's Zach LaCasse in the semifinals.
Regalado (221 pounds), a senior, also got second place and scored 24 points for his two pins and a decision.
After a first-round bye, Regalado pinned Ridgeview's Brandon Hansen at the 3:50 mark of the second round.
The win moved Regalado into the quarterfinals, where he faced off against Bend's David O'Conner.
The Eagle Indians needed three rounds before dropping O'Conner at the 5:50 point of the final frame.
After his quarterfinal triumph, Regalado moved to within two wins of a tournament title, as he hit the mats opposite Burns' Austin Ryder.
Regalado moved forward with an impressive 5-1 decision to move to the finals against Clackamas' Kyle Anderegg.
Anderegg had the better output in this showdown, as he notched an 8-4 decision to claim a championship.
Also adding his name to place list was senior and former state qualifier, Morales, who tipped the scales at 183 pounds.
Morales had a first round bye, but then threw his weight around against Cascade's Isaiah Roniger, getting the pinfall victory in the second round at 2:55.
Up next, Morales locked horns with Mountain View's Keenan Springer.
Morales slammed down Springer at the 3:04 mark of the second round for the pin to muscle his way into the semifinals.
There, Morales had his championship hopes dashed after a pinfall setback to Clackamas' Brad Pfeifer at the 4:50 level of the third round.
Although his title hopes were by the wayside, Morales rebounded in a major way against Gresham's Max Barton, with a 10-3 decision.
Still given a chance to score third place, the Tribe senior eventually notched a 13-7 decision over Cascade senior, Hayes Vandehey.
In other weight classes, Samuel Tyler won one match at 114 pounds, and the duo of Cole Davis (121 pounds) and Luis Herrera (139) secured two wins apiece all by way of pin.
Damion Morris scored a pin and a 14-8 decision in his 153-pound classification, Mitchell Waters (153) grabbed a pinfall victory and Daniel Madrigal (161), notched three wins, two by pin in registering nine points for his team.
TDW next hits the mat for action this Friday for the two-day Don York Invitational at Cleveland High School in Portland.