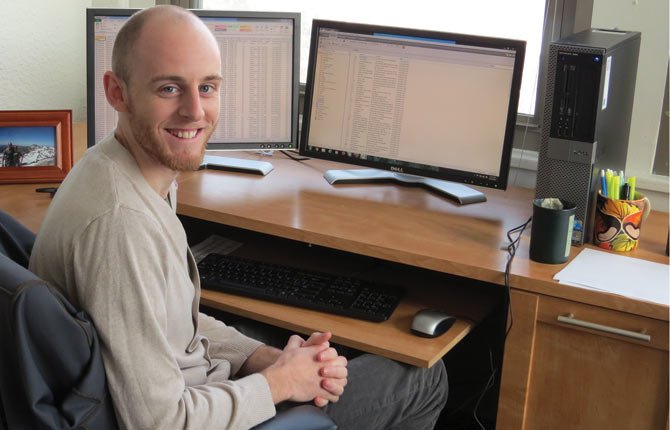 Matthew Byrne set off to see the world and found, after spending time in Australia, South America and several places in between, that his heart was pulled back to the gorge where he had been raised.
"Traveling actually helped me see what an incredible place this is," he said.
The 25-year-old native of Parkdale and graduate of Hood River Valley High School has settled into the role of institutional researcher for Columbia Gorge Community College. He has been happily at work since August studying student demographics and compiling reports and surveys.
"What I do is all across the board," he said. "This is only the third year the college has had an institutional researcher so we're still kind of defining the position."
He holds a degree in International Public Health and once worked as an AmeriCorps volunteer with plans to spend his career preventing diseases and prolonging life. However, Byrne has found his new position a good fit because of the variety and mental challenge it offers.
He fulfills faculty requests for information about student performance and studies trends and incoming data to make sure the college is on track with its core values and objectives. These are incorporated into the mission statement "Building Dreams, Transforming Lives" and also include strengthening community partnerships.
In early December, Byrne delivered his first student profile to the college's board of educators. He told them that there had been a 13.8 percent decrease in full-time students during the 2012-13 academic year, dropping the total number of students to 1,076. When part-time students are added in, there are 4,657 individuals attending classes in Hood River and The Dalles.
Board members said the downturn in enrollment is predictable with an upswing in the state and national economy. When people lose jobs or are struggling financially, they often decide to upgrade skills in another field, which accounted for higher numbers after the recession hit in 2008.
Even though full-time enrollment fell below the 3 percent annual growth target at the college in 2012-13, Byrne said it was the second highest year ever for the award of degrees (187) and certificates (88).
The college awarded $5 million in financial aid to 869 students, including 449 who were part-time. The average aid package was $6,634 per person.
Byrne said the ages of fulltime students are growing younger and now stand at an average of 26.3, compared with 36.1 when part-timers are added in.
Seventy-four percent of students at the college live in either Wasco or Hood River counties, 18 percent come from Washington State and the remaining 8 percent from other parts of Oregon.
The student body during 2012-13 was representative of the region in ethnic composition with a large Caucasian majority at 76.7 percent and a significant Hispanic minority at 20.2 percent.
Females make up the largest portion of the student population at 61 percent, compared with 39 percent being male.
In addition to processing existing data, Byrne also conducts surveys and makes sure the college fulfills its mandatory reporting requirements to state and federal authorities in order to maintain independent accreditation.
In July, the college achieved its seven-year goal to gain autonomy and no longer has to operate under the umbrella of Portland Community College. That has gained the college more flexibility to develop instructional programs and provide services to students.
The distinction brings with it the requirement for continual evaluation and improvement. Byrne said he will be part of the process to continually measure how the institution is performing.
"If I find that a group of students is having trouble, then I will work with faculty members and administrators to come up with solutions and best practices," he said.
On the personal side, Byrne is engaged to Michelle Baragona, whom he met at the British Pub in Hood River during trivia night. They enjoy outdoor sports and recreational activities, such as hiking, that are widely available in the gorge.