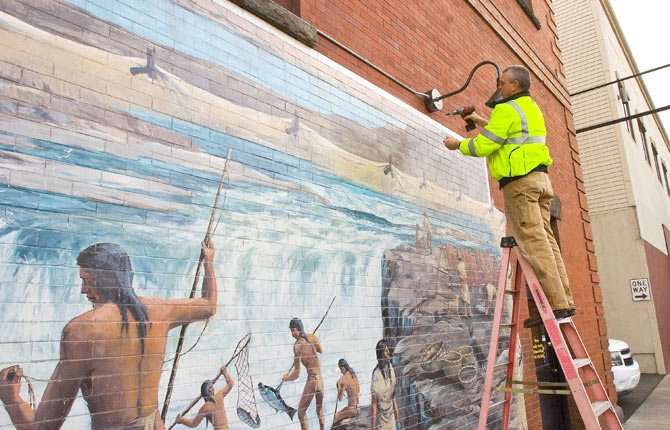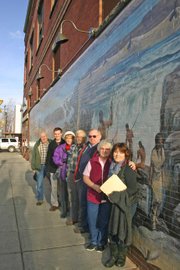 The Dalles Mural Society celebrated new lighting installation under way Jan. 2 of some of the first murals commissioned for downtown The Dalles, four in all.
The society envisions lighted murals drawing more people to help enliven the core of downtown The Dalles during the evening hours.
"This is the prime center of the city," said society member Jake Grossmiller in an earlier presentation. "[These murals] get the most attention by people coming through." Individual tourists and bus tours make a point of visiting the murals, he added.
The lighting project was funded with a combination contributions from the City of The Dalles, Columbia Gateway Urban Renewal, Northern Wasco County PUD, Wasco County Cultural Trust and The Dalles Area Chamber of Commerce. "It's great to have the murals at this central intersection lighted," said Matthew Klebes, coordinator of The Dalles Main Street. "It will totally change the atmosphere of downtown at night."
The Mural Society hopes to eventually light all 14 of its downtown murals. A new brochure is available as a guide to them all.
The society will also be hosting the Chamber Business After Hours in March at La Cabaña and will be offering tours of the murals as part of that event.
The Dalles Mural Society is always looking for volunteers and sponsors, said Gary Honald. "We're always looking for people to help."
Online:
www.thedallesmuralsociety.org